Heavy rain was expected Saturday, so we got up early to get as much fun into our day as possible. After enjoying a delicious and relaxing breakfast at our hotel, we loaded up the car and headed a little bit south to Lowell, Indiana. Our first stop was Buckley Homestead. Buckley Homestead is described as a living history farm. It's spread out over quite a few acres but is very walkable and so interesting that you cover quite a bit of ground without realizing it. The grounds are open from 7 AM to dusk daily, and the buildings are open from noon to 4 PM on the weekends in September and October. They do charge an admission to go inside the buildings and there are a variety of special events from time to time – check their website for updated information on what's happening at the homestead.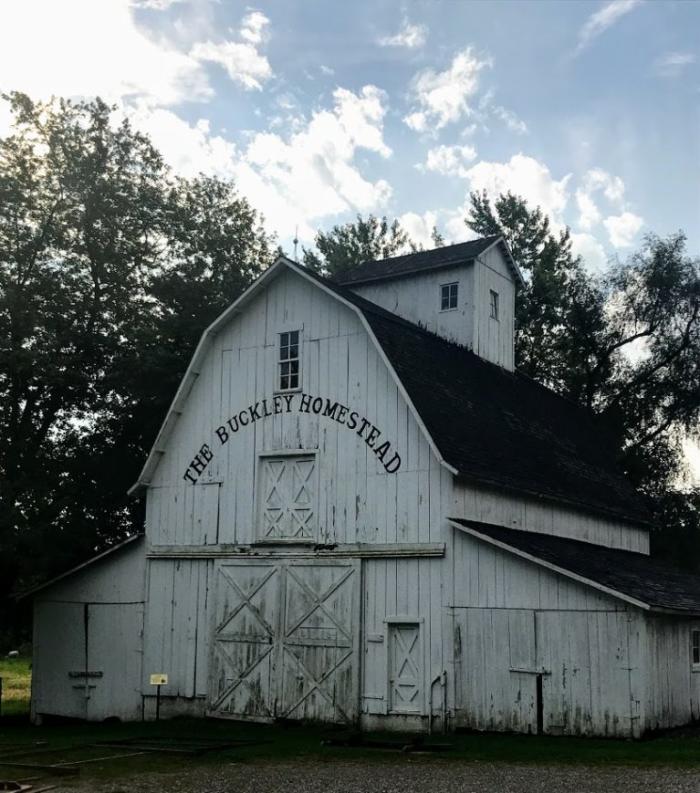 We started at the Visitors Center and walked across the street to the farmhouse. There was a small path with a variety of well-labeled apple and pear trees, and a hen house with pens that contained geese, chickens, a rooster, etc. They were loud! The closer we got, the more they complained – I made a short video as they were cracking us up:
We crossed another street to find the large barn area – this was definitely our favorite part as we poked around in the dusty old barn and visited with lots of animals. There were cows, sheep, horses and lots of barn cats. Living in the suburbs we don't get the chance to see farm animals up close very often, so my kids loved this! We had fun counting the barn cats as they kept running in and out of the barn – we think we saw six total. Near the barn was another small building which was the hired hand's house. It was simply furnished and located close to the animals.
Farther down the street we discovered a one-room schoolhouse. This building isn't original but is a replica built on the foundation of the original one. It was open from 1850ish to the early 1900's. It's hard to imagine going to a school this small compared to the large, modern schools we have now. There were even two outhouses out back – which was awful to think about having to use on a cold or rainy day!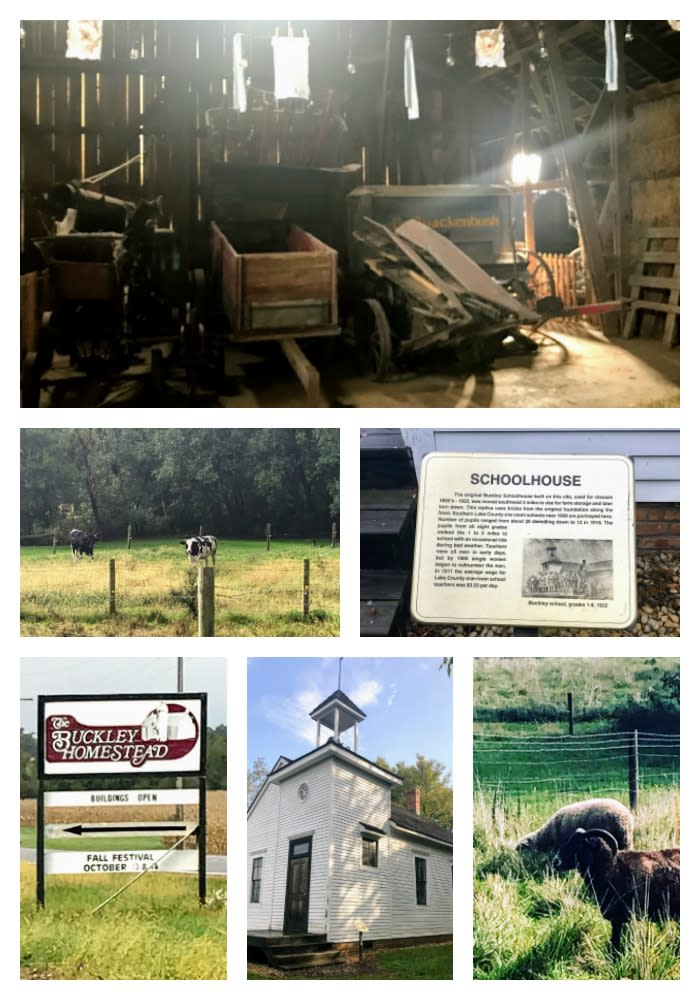 After tromping around the grounds and checking it all out, we decided to head into town to see what else Lowell had to offer. One of our favorite things to do when in a new area is explore small towns so we are always on the lookout for new ones to check out.
Lowell's downtown consisted of just a few streets, but there were almost half a dozen antique and consignment shops to check out. If you like antiques, it would be possible to spend hours wandering these stores – they were packed with treasures. Downtown also housed a few local restaurants, businesses, and a gaming shop. An enjoyable way to spend a few hours.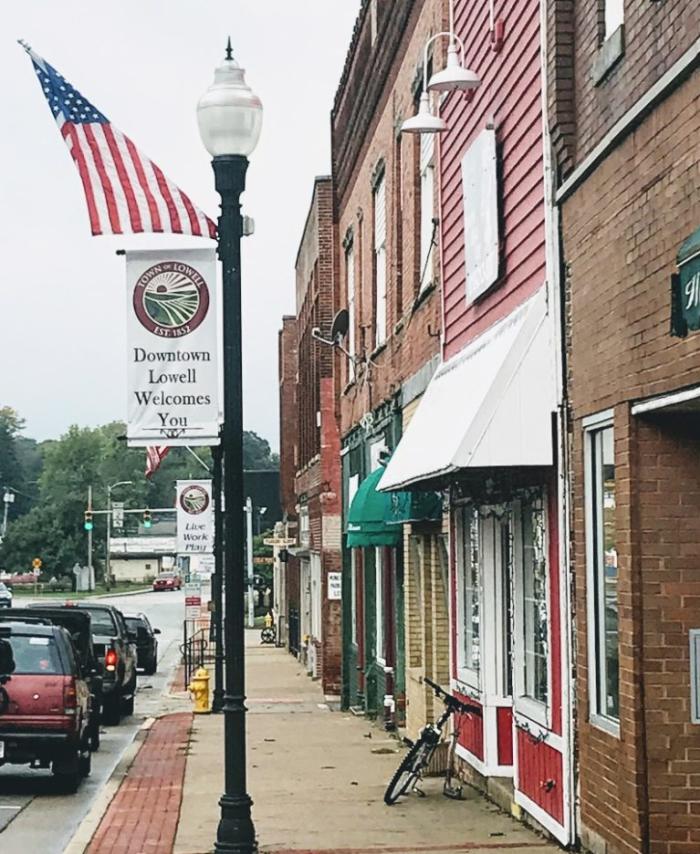 It was lunchtime and the sky was getting dark – it was apparent it was going to rain heavily. We ducked into Athens Grill based on its 4.5-star rating on Yelp and were pleasantly surprised at the variety on the menu. We ordered some delicious salads, gyros, fresh pita and a warm cup of lemon rice soup. I loved that their fountain sodas included grape soda and RC. Very nostalgic for us. Prices were reasonable – and the lunch special was a very good deal. For example, one of the options was a Jr. Gyro, fries and a fountain drink for $6.00. Can't beat that! We spoke to the owner as we were dining (it's a tiny little room with just a few counters and tables) and discovered the restaurant was going on their 15th year in business. A tasty and quick place to check out if you are antique shopping in downtown Lowell.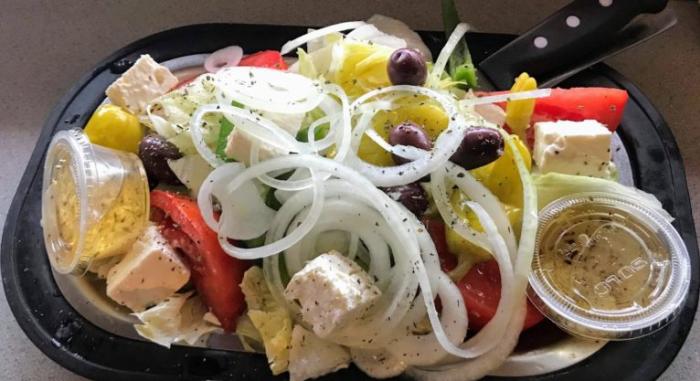 The weather let loose with extremely heavy rain and thunder. After checking the weather app, it didn't appear it was going to end anytime soon so we decided to call it a day and head home. We did drive by Fair Oaks Farm which was our intended next stop, but the weather was just not conducive to enjoying an afternoon there. This is definitely a place we want to go back to and check out thoroughly as I've heard many good reviews of the experience, restaurant, and CHEESE! After driving by, I think it could be a full day trip of its own. Next time!
Buckley Homestead, 3606 Belshaw Road, Lowell, IN 219-696-0769
Athens Grill, 116 Mill Street, Lowell, IN (219) 696-4700
Fair Oaks Farm,   864 N 600 E, Fair Oaks, IN 47943; (877) 536-1194
Thanks again to the South Shore CVA for sponsoring part of our trip. We had a wonderful time and made some fun family memories. All the opinions expressed are my own.