Photos from the Indiana Dunes National Park. View more on their Flickr account.
If you're looking for a hidden gem in Northwest Indiana or if you're a history buff you may want to visit the Century of Progress Homes at the Indiana Dunes National Park. These five homes were originally built for the 1933 Chicago World's Fair, showing off the modern architectural design of the time. The homes are listed on the National Register of Historic Places and once a year there is a ranger-led tour of the five homes.
The Homes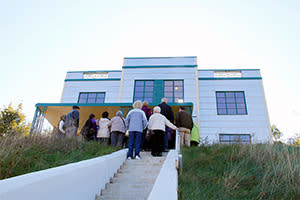 Armco-Ferro House: This affordable home was designed to be mass-produced, using steel panels for walls and not using a traditional frame.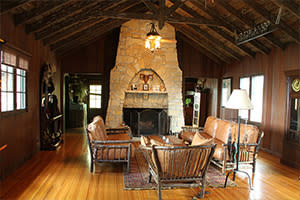 Cypress Log Cabin: The traditional-style log cabin was built to be a home in the mountains. The cypress logs have held up well against Indiana's summers and winters.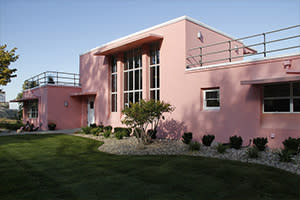 Florida Tropical House: This bright pink home is one of the most noticeable in Beverly Shores. It was designed for southern Florida living and includes open terraces and combines the indoors and outdoors in the living spaces.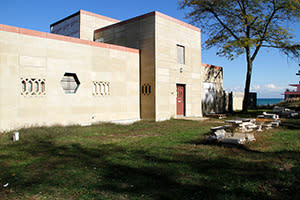 Wieboldt-Rostone House: Using an artificial stone mix called Rostone, this house was supposed to stand the test of time, never needing repairs. Unfortunately, the stone online lasted until the 1950s.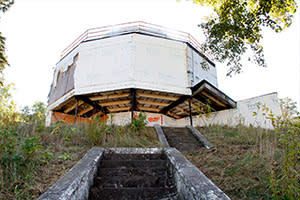 House of Tomorrow: This home was dubbed as the "house of the future" and included its very own airplane hangar! Glass walls offer views from every angle. This was among the most popular homes in the exhibit. Other "wow" features were air-conditioning, dishwashers and electronics to open kitchen and garage doors.
A Little Bit of History
The five homes were on display in the Home of Tomorrow Exhibit at the Chicago's World Fair. Approximately 50 million people visited the Fair in Chicago. When it ended, the homes were brought by barge across Lake Michigan to Beverly Shores in Indiana. The intent was to sell more of these homes in the community of Beverly Shores.
The Depression hit and the resort community failed. Fast forward to 1966 when the National Park Service took over the area known as Beverly Shores. There was little incentive for the homeowners to maintain the properties and the homes fell into disrepair.
Fast forward again to the 21st Century when Indiana Landmarks leased the homes from the Park Service and then subleased them to their current residents. The three-way partnership has been quite successful as four of the five homes have been restored under the agreement.
Visit the Homes
The homes are located on Lake Front Drive in the community of Beverly Shores (Michigan City, Indiana). Homes can be viewed year-round from the road and tours are available one day a year in October, by reservation. Learn more about the tours and purchase tickets at www.dunesnationalpark.org.