Header photo from Marilyn's Bakery
Paczki, pronounced "poonch-key," are beloved fried pastries filled with jelly or cream, sprinkled with powdered sugar, and are a Polish tradition. These pastries are tremendously popular in Northwest Indiana as we have one of the largest Polish American populations.When I first moved to the region and everyone started talking about getting their orders in for these sweet treats that I mistakenly called "pack-skis" I didn't understand the craze. I, having not been Polish or been around many Polish Americans, had never heard of these wonderful, jelly filled treats. Needless to say, after my first Fat Tuesday in the area, I understood.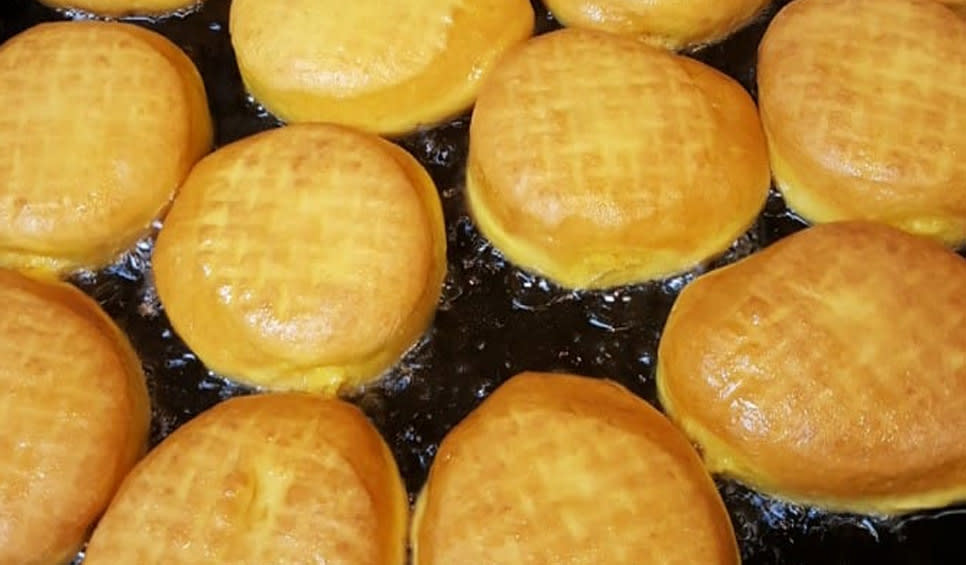 Beck's Crown Bakery frying paczki
History of Paczki 
Over the year's paczki has evolved more and more. Many of these bakeries make their paczki from their buscia's (Polish for grandmother) recipe that has been passed down through the years. From these recipe's they have added flavors like Oreo, mango, and peanut butter & jelly among the traditional flavors of prune, apple, and apricot.
Paczki were created to use up ingredients that many people would give up for Lent like butter, sugar and lard so that they did not go to waste. Originally, these fried goodies were made as a savory treat with bacon or pork fillings, nothing like the pastry we know today. Lucky for us, King Arthur III had French chefs to cook for him who came to Poland and created the lighter dough with sweeter fillings that we all love. 
Paczki by Cakes by Karen
Where to Buy Paczki in Northwest Indiana
The big question around I hear around Fat Tuesday is - "Where did you get your paczki from?" So, here are some of the most well-known and raved about bakeries in NWI.
Marilyn's Bakery, 8960 E Ridge Rd., Hobart IN OR 9159 Wicker Ave., St. John
Cakes by Karen, 8632 Kennedy Ave., Highland
Beck's Crown Bakery, 1918 N. Main St., Crown Point
Calumet Bakery, 1446 119th St., Whiting (Fill out your paczki order early here)
Henze's Bakery, 2501 Calumet Ave., Valparaiso
The best thing about these treats is that in Poland, many believe it is bad luck to not eat a single Paczek (singular word for paczki) on Fat Thursday, which is Fat Tuesday in the United States, so you have an excuse to eat as many paczki as you wish! 
Share your favorite paczki with us on social media using #AlongtheSouthShore!