There are few sights I enjoy more than the perfect pink and purple sunset. Now picture that sunset over the dunes. Now picture that sunset over the dunes with the Northwest Indiana Symphony playing live in the background. Now put a Mother Wilma's s'more in your hand and you have one happy concertgoer. There was about 2,000 happy concertgoers all enjoying a similar experience at the Symphony at the Dunes Concert at West Beach this summer.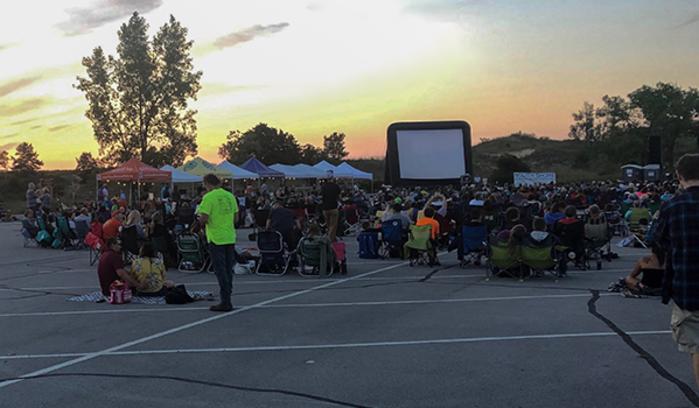 As the sun melted into Lake Michigan, attendees pulled up their blankets, tucked into their lawn chairs and settled in to relax and enjoy the impressive symphony set list. Songs included familiar themes from Harry Potter, a medley of West Side Story favorites and gorgeous western movie score that filled the warm night air with sweeping melodies from the string section. The conductor was larger than life, illuminated by his bright spotlight, accentuating his white suit coat and his curly top of hair. He led his full orchestra through two hours of beautiful music, keeping the audience hanging on every note. 
If you wanted to stretch your legs, glowing yellow Edison bulbs lit the tents that lined the left side of the stage, showcasing the other programs and events at the park. Offering their merchandise and raffle prizes, volunteers of other park groups and park rangers got to speak with attendees and share upcoming park events. The night couldn't end without the perfect souvenir to take home, so I dug through each tent and found Save the Dunes and Dunes National Park Association merchandise. 
Before the night came to a close, I made sure not to miss the collection of food trucks that lined the back of the audience. The mix of choices included beef sandwiches, popcorn, ice cream and Mother Wilma's' marshmallows. 
The night came to a close and I made my way back to my seat. S'more in one hand and a frozen hot chocolate in the other, I sat back down with my family and shared in a perfect night out together at the dunes.