I really enjoy going to the theater. It makes me feel fancy and very grown up. Sometimes I imagine myself as an "empty-nester" enjoying a show with my friends. I recently went to see The Odd Couple at Theatre at the Center and it didn't disappoint. Full of laughs and in a cozy setting - there isn't a bad seat in the house.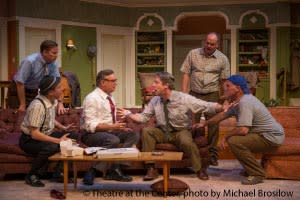 The Odd Couple brings you to 1960's New York in the hot summer. The adventures of Felix Ungar and Oscar Madison are showcased on stage. Felix is a fusspot news writer and Oscar is a sloppy sports journalist. Circumstance brings them together as roommates as they rekindle their social lives.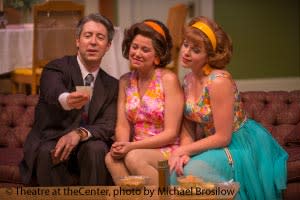 The Odd Couple is one of Broadway's most successful comedies and it's easy to see why. You can relate to the characters - we all know someone that is our complete opposite. I lived with my dearest friend during college. While we were both very clean and kept our apartment neat, we soon realized that it was those little things that we would bicker about: food in the fridge, whose turn it was to buy the toilet paper and the ever fluctuating A/C and heat settings. While watching Oscar and Felix bicker on-stage, I couldn't help but get a laugh out of their situation and think back to my time sharing an apartment with my dear friend.
Individual tickets range from $40 to $44 and can be purchased by calling 219-836-3255 or online at tickets.com. Hurry, The Odd Couple performances end August 14.
The Theatre at the Center will also welcome the following in the coming months: American English, a Beatles stage tribute, Pump Boys and Dinettes, a countrified musical tribute and Theatre for Young Audiences with Jack and the Beanstalk, The Story of the Nutcracker and Four Score and Seven Years Ago.
See what's playing at www.theatreatthecenter.com.