Please note: We recommend calling ahead to businesses and attractions you plan to visit for requirements and hours of operation.
Porter Beach
Wabash Ave. & Duneland Dr.
Porter, IN 46304
Phone: (219) 926-7561
Website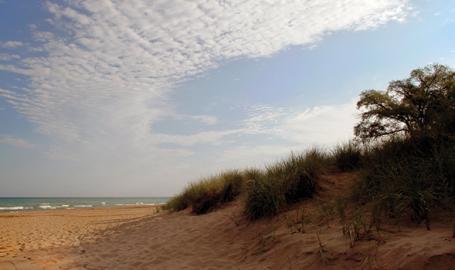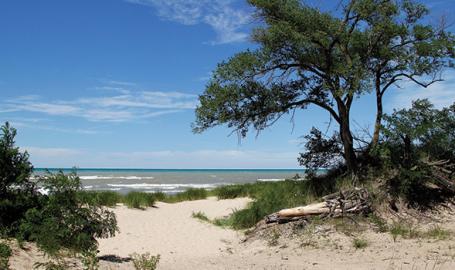 Visitors can call 219-395-1003 to get recorded information on available parking at Indiana Dunes National Park beaches and the nearby Indiana Dunes State Park. For the latest status of the National Park, click here.
Wear a mask when you cannot stay six feet from other visitors. Whenever you go to the restroom or are in common space areas like the concession stand, you will need to wear a mask. On the beach, spread out. Keep your beach towel six feet or more away from others. 
Part of the Indiana Dunes National Park.
Porter Beach offers access to Cowles Bog, which has rare plants and varied wildlife. A 4.6-mile trail leads to the dunes and the beach.
Safety note - Porter Beach does not have lifeguards. Swim at your own risk. Do not swim in Lake Michigan when Rip Current warnings are posted or in large crashing waves, which can cause rip currents. These strong currents rushing out into Lake Michigan can carry even the strongest swimmer with them. If you get caught in a rip current, do not try to swim against it. Instead, swim parallel to the shoreline until you are out of the current. Even with calm water, non-swimmers and children should always be very closely monitored by an adult. Check for beach hazard warnings before you go.
Hours: 6 am to 11 pm, daily.
Amenities: Restrooms, wheelchair accessible and parking available for 50 vehicles. No pets, no alcohol, no glass containers, no fires on beach.
Parking: At the intersection of Wabash Avenue and Johnson Beach Road in Porter.