It has been 15 years since I have been on Cedar Lake. My triumphant return to this body of water is in part due to my dad's love of kayaking. He is always looking for people to share this passion of his with and so, having a free Thursday morning, I agreed to go kayaking on Cedar Lake.
 My dad has a beautiful yellow sea kayak and I rented one from Lake Toy Rentals (now closed but you can rent from Bugaboat Rentals). The owner is a very kind man who has run Lake Toy Rentals for about five years. He helped me pick out a kayak and paddle and even helped us cast off. I paddled around the harbor for a bit just to re-familiarize myself with kayaking again and the very kind owner very nicely pointed out that I was holding my paddle upside down. Once I was doing everything properly and felt confident, we glided out of the harbor through a charming channel with an overhead bridge.
We kayaked along the shore of the lake so that if boats came out, we would not be in their way. We gawked at some of the huge mansions that are around Cedar Lake, one even had a helicopter pad. As we were paddling and talking about the architecture my dad remarked that a police boat was coming up behind us and someone was taking pictures. I immediately started to freak out, worried we were doing something wrong. It turned out they were taking pictures of us because we were doing everything right!
Two journalists for the Post-Tribune were on board with the police officers and they were doing a story about water safety. The police officers told us they were pointing us out as good examples because we had our life jackets on, and we were not in the middle of the lake with our kayaks. We were so relieved and chatted with them for a bit before they sped away in their speed boat.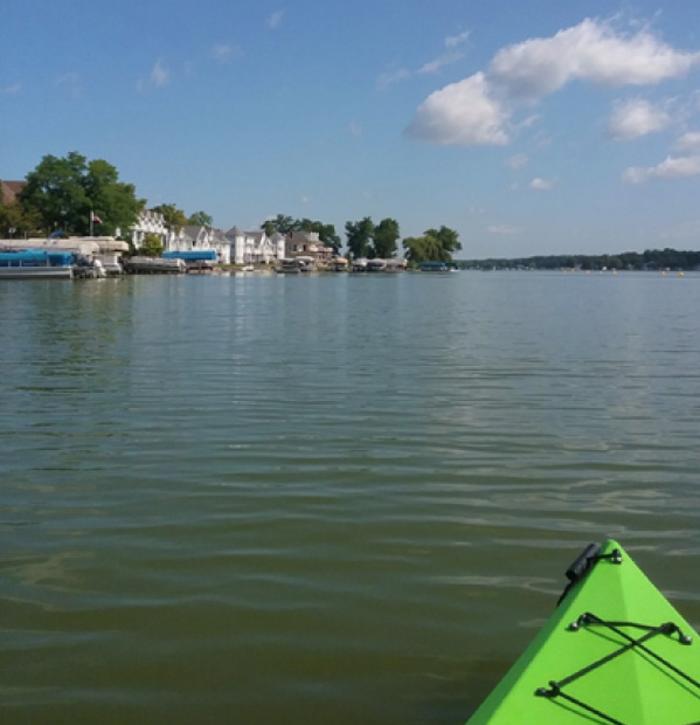 By this time the lake was waking up. We saw people relaxing on their decks, a large white sailboat cruising, and a boat with a very talented skier doing amazing tricks. Tons of ducks and geese were on the water, too. I steered clear of the geese because I am slightly afraid of large birds. My dad did not, and I yelled to him that if they attacked him, he was on his own. There would be no rescue mission by me. Thankfully, they just seemed annoyed at him and quickly swam further away from us.
An hour in a strong wind started blowing across the lake and the water got choppier and choppier. We had to really focus on balance, control, and really use our upper body strength in order to not be tipped over by the waves. We struggled around a turn and fought our way over to the beach. We pulled our kayaks onto the sand to rest a few minutes and to see if the wind would die down. Eventually, it did and we pushed off once again. We continued our way around Cedar Lake and watched as more boats and jet skis came out. Other kayakers were paddling by and we waved to each other.
After a few hours on the lake we navigated our way back towards the little channel we had originally emerged from and were greeted by our new friend who was once again more than happy to help us with our kayaks. My face was a bit sunburned and my arms were sore, but I was grateful my dad encouraged me to do this adventure.
---
Paddle on Cedar Lake with Bugaboat Rentals (an affiliate of Bugaboo's Bar and Grill). Rent a single kayak at $15/hour or a 2-3 person kayak for $25/hour. Paddleboards are also available for $20/hour.