One of the best aspects of living in "Da Region" is the opportunity to experience new things, whether it's a cool shop in a historic downtown, a specialty dish from a locally owned restaurant, an amazing bit of regional history or an establishment that makes you feel at home the very first time you visit.
I love experiencing new things, so when my co-worker, Megan, invited me to come with her to Shady Creek Winery in Michigan City, I jumped at the chance. I am a self-professed simpleton when it comes to wine, so I was eager to expand my limited knowledge base.
I was impressed when we pulled up to the winery – it's set on a beautiful, wooded piece of property and the light streaming from the windows made the building look very warm and inviting. As we entered through the front doors, I was struck by the comfortable, casual atmosphere inside the winery. A crackling fire was dancing in the huge fireplace, cozy tables were scattered about and the owners and employees greeted us warmly.
As Megan was taking care of some business with Tim and Sue, Shady Creek's owners, I was invited to sample some of their wines. I readily admitted to my ignorance of all things vino, and was told "no worries" – they would guide me through the tasting. With some instruction from Megan about how to properly hold a wine glass (by the stem, not the bowl), I was ready to go.
After asking me a few simple questions about what I normally like to drink, they started me out with their Dry Riesling. Delicious, if you can use that word to describe wine, and much more "grown up" than my usual wine choice. I also sampled Pink Sky, Sandy Feet, Vignoles and RipTide Red Blend. Each selection was unique and wonderful!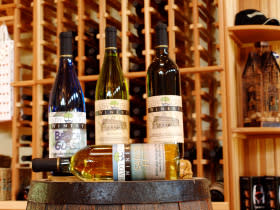 I ended up buying three different bottles of wine, one for a gift and two for myself. I appreciated the help I received making my selections and the fact that they patiently guided me through the tastings, answering my questions and expanding my wine knowledge. I can't wait to go back on a warm summer day to enjoy the beautiful patio on the back of the building and sample more of their lovely wine!
Whether you're a wine newbie like me or an expert, stop in for a relaxing afternoon at Shady Creek Winery – just maybe you'll get to experience something new in "Da Region."
Shady Creek Winery
2030 Tryon Rd
Michigan City, IN 46360
Phone: (219) 874-9463
Website


Contributing Editor: Amy Van Soest
Former communications coordinator with the South Shore CVA.