Cinco de Mayo is right around the corner and is touching down along the South Shore all weekend! Crack open some piñatas because it is time to celebrate the success of the Battle of Puebla throughout Northwest Indiana! Below you will find the top 5 ways to get in the fiesta spirit for the fifth of May, including authentic Mexican dining and events!
Do you know of any other happenings not listed below? Let us know in the comments section right below this article! Let's be social!

El Taco Real
935 Hoffman Street, Hammond
(219) 932-8333
The readers of the Times of Northwest Indiana voted El Taco Real as the Best Mexican Food in the region in 2014 and Cinco de Mayo is the perfect reason for you to experience their authentic Mexican cuisine for yourself. For 41 years, El Taco Real has been using recipes handed down from generation to generation to leave mouths smiling and stomachs full.
The Garcia Family knows a thing or two about serving up tantalizing dishes like their world famous queso fundido, sizzling fajitas, traditional menudo and more. Their pride is in the product. Mexican cuisine in Northwest Indiana doesn't get better than El Taco Real. The restaurant sets the bar high. You will find the restaurant open Tuesday - Sunday.
Don't just take my word for it. Check out El Taco Real's full menu here and make your reservations.
Barbara Jean's Gifts and Gourmet
Crown Point
(219) 661-1900

Update 9/13/17 - Barbara Jean's Gifts & Gourmet no longer has a storefront, but is still creating gift baskets! Call her with your order at (708) 606-1612. 


How does a little after-hours celebration sound? Head to Barbara Jean's Gifts and Gourmet on May 5 from 4 p.m. to 7 p.m. for a Cinco de Mayo Fiesta!
The boutique is delivering food samples, drinks and in-store specials to everyone that visits on the Fifth of May (talk about a translation!). Be sure that you RSVP to Barb herself so she can add some room for you and your party. Barb can be reached at 219-661-1900. Barbara Jean's Gifts and Gourmet is located next to Safe House Bar & Grill in downtown Crown Point. Remember, Barbara would like to tell you, "Mi casa es su casa!"
Check out the flyer for more information: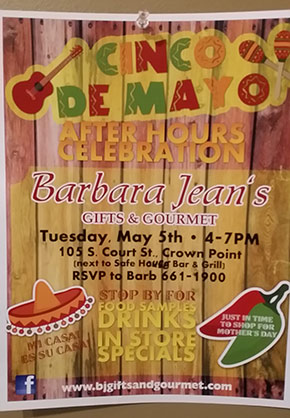 Bartlett's Gourmet Grill & Tavern
131 East Dunes Highway, Beverly Shores
(219) 879-3081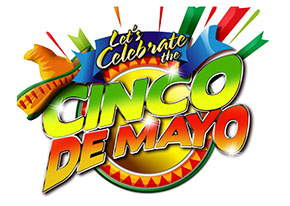 Bartlett's Gourmet Grill & Tavern's Cinco de Mayo celebration is a fiesta by the shore! A wide array of dinner offerings will be showcased on May 5 at this one-of-a-kind venue, and with the holiday falling on a Tuesday, you better fill your plate with a taco special for $14.95. I want you to picture spicy margaritas, pork posole verde and a grilled salmon Veracruz being served to you as you dine next to the greatest of the Great Lakes. Can you see it? Good! Check out their full menu below and do away with this visualization. It's time for you to feast!
The City of Hammond's 10th Annual Cinco de Mayo Fiesta
Hammond Civic Center - 5825 Sohl Avenue, Hammond
(219) 853-6378
It's been an amazing decade for the city of Hammond and the 10th annual Cinco de Mayo Fiesta is set to celebrate on May 2 from 5 p.m. to 10 p.m. at the Hammond Civic Center. Tickets to this extravaganza are $15 and that includes food and entertainment for the evening. Live music will rock the Hammond Civic Center with performances by Ballet Folklorico Yolotzin, Mariachi Imperial Azteca and Together beginning at 5:30 p.m. A cash bar will be available to attendees.
For more information or to purchase tickets, call 219-853-6378. Don't forget to RSVP for the fiesta by visiting the event page on Facebook here.
El Salto Authentic Mexican Restaurant Celebration
757 Indian Boundary Road, Chesterton
(219) 395-9890
Who doesn't like live music when celebrating Cinco de Mayo? Head to El Salto in Chesterton on May 2 from 4 p.m. to 10:30 p.m. for an outdoor parking lot festival headlined with live music from the Crawpuppies. Food and drink specials are planned for the extravaganza and they will be announced on May 2. Stay in the loop and catch all the event announcements by visiting El Salto's website or follow the restaurant on Facebook.
This is what happiness looks like and you shall find it when you visit on Saturday, May 2: