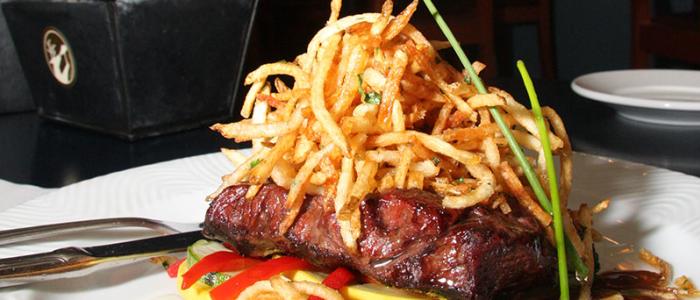 Valentine's Day is just around the corner. Need some ideas for a great restaurant in Northwest Indiana for a romantic dinner with your sweetie? Check out these terrific options, pick your favorite, make your reservation and get ready to impress your special someone with delicious cuisine and wonderful ambiance!
Sage Restaurant – Sage Restaurant in Valparaiso features American-Italian cuisine with a farm-to-fork flair. Known for their handmade pasta, tempting entrees and distinctive restaurants, Sage will surely satisfy even the most discriminating diner.
The Bait Shop – An exclusive gourmet fine dining restaurant off the beaten path in Valparaiso, featuring dishes made with fresh, local ingredients.
Asparagus – Experience fine dining at Merrillville's Asparagus in a serenely elegant, Zen-like environment while savoring dishes freshly fashioned from the cuisines of Thailand, Vietnam and the Americas, all infused with classic French culinary artistry. Enjoy signature cocktails or wine from their extensive collection to go with your meal.
Bartlett's Gourmet Grill & Tavern – For exceptional cuisine with a more casual ambiance, head to Beverly Shores to experience Bartlett's Gourmet Grill & Tavern. Menu offerings feature distinctive dishes such as duck confit and pork belly-filled wontons, small batch Bourbon glazed meatloaf and wild mushroom ravioli.
Lucrezia Ristorante – Housed in Crown Point's historic Brown Mansion, Lucrezia's features award-winning Italian cuisine, a full bar, chef specials and a sophisticated wine list. It's sure to please your inner foodie, as well as your inner romantic.
Miller Bakery Café – Located near the shores of Lake Michigan in Miller Beach, this regional favorite features a fresh approach to New American cuisine, with creative small plates, fresh seafood and the finest grilled meats.
Patrick's Grille – This fine dining restaurant in Michigan City has a cosmopolitan, yet comfortable ambiance serving delicious steak, seafood, pasta and more.
Byway Brewing – The brewery is hosting a special 5-course dinner on Valentine's Day, presented by Byway's executive chef and his team. Get your reservation now!
Lighthouse Restaurant – Nestled on the shores of beautiful Cedar Lake, Lighthouse Restaurant features a large menu with delectable offerings. Surrounded by windows, diners enjoy the scenery of the woods and the water while savoring cuisine that is found nowhere else in the region.
Pikk's Tavern – Located in downtown Valparaiso, Pikk's Tavern resembles a 1940s Chicago steakhouse with its warm and inviting ambiance. Diners can enjoy delicious Valentine's Day specials, topping them off with an amazing chocolate cake with raspberry sauce.
Farmhouse Restaurant – With its many seating options and beautiful fireplace, Farmhouse Restaurant at Fair Oaks Farms is a wonderful place for a scrumptious meal. Enjoy the lively pub that showcases local craft beers and American wines, or visit The Market next door to take home some farm-fresh goodies.
Gamba Ristorante – Voted one of the most romantic restaurants in the region, Merrillville's Gamba Ristorante is housed in an architectural masterpiece and features classic Italian cuisine, as well as a huge wine room.
Café Borgia – Munster is the home of this fine dining restaurant that features innovative chef's specials, as well as a delectable menu whose key is fresh ingredients. Make sure to save room for Café Borgia's delicious Italian desserts!
Old Colonial Inn – Located in downtown Kentland, Old Colonial Inn is housed in the historic Hotel Kentland. Diners will appreciate not only the beautiful rooms, but the distinctive entrees, as well.
No matter where you live along the South Shore, you're sure to find that perfect restaurant to make this Valentine's Day one you'll remember for a long time.
Contributing Editor: Amy Van Soest
Former communications coordinator with the South Shore CVA.