You know it's the holiday season when it's time to unwrap the "A Christmas Story" Comes Home exhibit, on display at Indiana Welcome Center in Hammond. If you have never been to this spectacular display, then you don't yet know what you're missing! This exhibit is completely free and is open from November 14 - January 3, 2021.
This exhibit is centered on the popular movie - I am sure you have seen once, twice, or more than 20 times - "A Christmas Story." The Macy's window displays showcase the fictional town of Hohman which is really low and behold, the author (and movie narrator) Jean Shepherd's hometown, Hammond, Indiana!
One of these window displays, The Parker's Living Room, has recently been renovated and is normally traveling around the region on display at local businesses. This year, however, the exhibit will have all seven of the original, animated window scenes on display at the Indiana Welcome Center for the first time!
Here is what you can expect from this holiday wonderland:
Santa!
You can't celebrate Christmas without a visit to the jolly man in the red suit. Santa will be visiting our exhibit every weekend from Thanksgiving to just before Christmas! Although in a different environment this year, families are welcome to come get their pictures taken with Santa.
During your visit to the Indiana Welcome Center, please be advised that masks are required for all adults and children who are old enough to walk. Santa will not be located on Santa's Mountain in the main exhibit hall, but instead inside the theatre with a glass partition between him and guests.
Families will be kept at least six feet apart waiting for their visit. Once seated on the opposite side of Santa, families are allowed to take off their masks for a photo. Guests are required to put masks on again before exiting the theatre.
Santa photos will be scheduled online ONLY. Please let us know when scheduling your appointment if anyone in your family has special needs and/or cannot use stairs. Appointments are $10 and include one printed photo; additional photos can be purchased for $6. Scheduling begins on November 14, 2020. We suggest you arrive at least ten minutes before your scheduled time.

Scenes from the Movie
Many of us have seen "A Christmas Story" more than a dozen times. It's iconic, it's a tradition, and it plays for 24 hours leading up to Christmas. The Indiana Welcome Center transforms into our very own Cleveland Street, depicting scenes from the movie. Seven scenes will have you reliving the movie as you stroll through the exhibit.
Higbee's Department Store – Ralphie Parker and his friends gaze at the holiday window display that showcases the must-have toys for Christmas.
A Hero's Dream – Ralphie dreams of saving the family from Black Bart and his gang of villains with his trusty Red Ryder in hand.
Flick's Tongue and the Tripe Dog Dare - Flick exclaims "Stuck, Stuck, Stuck!" after Schwartz triple dog dares him to stick his tongue to the frozen flagpole. Firemen and police officers help Ms. Shields retrieve Flick.
A Major Award – The Old Man shows off his major award in the front window of the Parker home. The glowing leg lamp was his "Major Award" after winning a contest.
The Bumpus Hounds – The hillbilly neighbors' dogs destroy the Parker's Christmas dinner. Leaving the family with no turkey, no turkey sandwiches, no turkey salad, and no turkey hash.
Santa's Mountain – A visit to Santa is Ralphie's last chance for his very own Red Ryder. When he asks, Santa replies with the infamous line, "you'll shoot your eye out kid."
The Parker's Living Room – Mr. and Mrs. Parker sit in the Parker living room while Ralphie and Randy are asleep upstairs.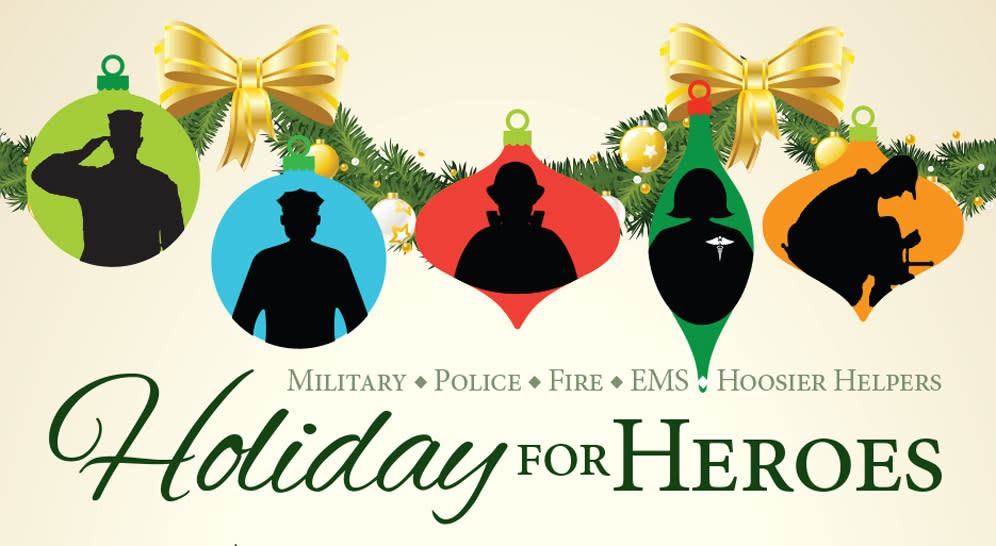 Special Events
Holiday for Heroes – Wednesday, December 2nd, 2020
This holiday event is exclusively for our first responders (police, fire, EMS, Hoosier Helpers, and retired or active military) from 5:00 p.m. to 7:00 p.m. Families can explore the exhibit, visit with Santa, and enjoy hot cocoa and cookies. First-responders are asked to show their IDs at the front desk upon arrival.
 
All Is Calm – Wednesday, December 9th, 2020
From 10:00 a.m. to 3:00 p.m. and 5:00 p.m. to 7:00 p.m. Santa will be available for photos on this sensory-friendly and accessible day for kids and adults of all ages. Sign-ups for photos are required.
 
Evening with Santa - December 16th, 2020
We wanted to make sure all families, even those busy on the weekends, are able to make it in to see Santa and get their traditional Christmas photo. Santa photos will be available from 5:00 p.m. to 7:00 p.m. and signing up for a time slot is still required for this event to accommodate families in a socially distanced setting.
All photo sign-ups can be found here beginning on November 14, 2020.

Leg Lamps and more!

No house is complete without their very own leg lamp to display in their home! Pick up a leg lamp (desk or regular sized) and "A Christmas Story" themed items at the Gift Shop! Browse through our South Shore travel posters and locally made items for the perfect gift for the holidays!
---
There is plenty to keep you busy at the Indiana Welcome Center. Visit achristmasstorycomeshome.com for more details. The Welcome Center is conveniently located off of I-80/94 & Kennedy Avenue South in Hammond; about 20 minutes from Chicago and 2 hours from Indianapolis.