Orchards and U-picks in Northwest Indiana
There is nothing better than sipping apple cider slushies, picking out the best pumpkins, and walking through a corn maze on a chilly fall day. Lucky for us, Northwest Indiana is full of amazing orchards and farm parks that everyone can enjoy.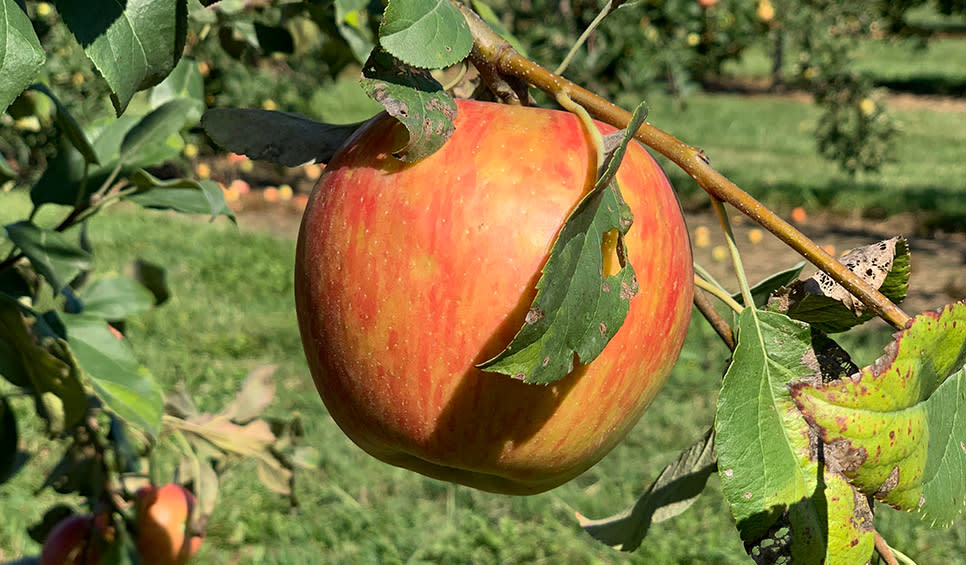 Fair Oaks Farms
Fair Oaks Farms Orchard has added many new additions to their experience. To pick apples at their u-pick orchard you can rent a golf cart on the weekend to drive around the orchard and surrounding trails or ride the wagon out to the rows of apple trees. They also have a u-pick sunflower field! 
Their Family Pub, located in the corn maze, provides not only adult drinks, but also kid-friendly beverages and picnics to go. There are also yard games to play like cornhole, ladder ball, spike ball, giant checkers and more.
If you get hungry, Fair Oaks Orchard has some tasty treats such as apple donuts, pastries, kettle corn and other goodies. You can also indulge yourself with a harvest dinner from the Farmhouse Restaurant.
Plan your trip to Fair Oaks Farms here and check out their hotel packages!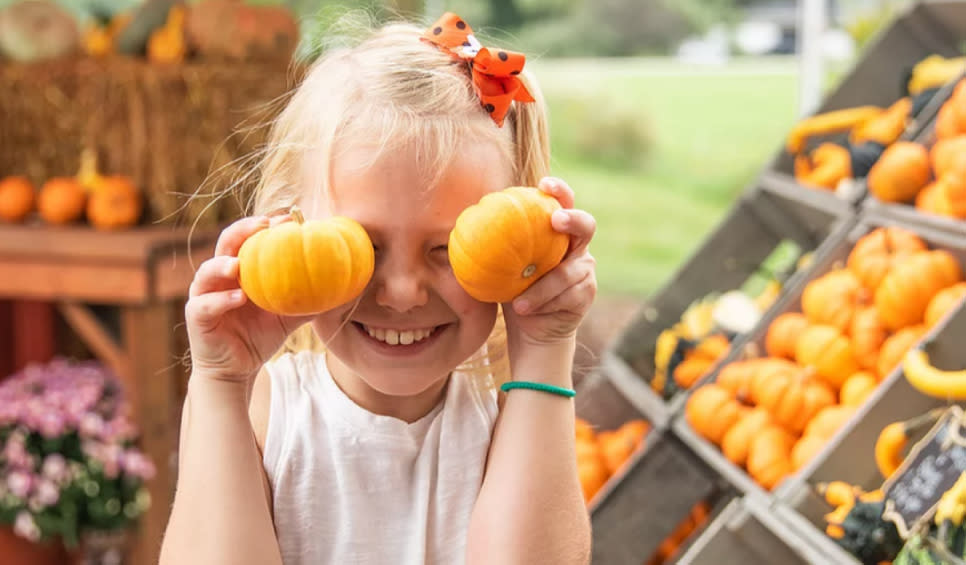 Harvest Tyme 
This farm park is located in Lowell and is full of fun for the whole family. If you are looking to spruce up your home with some u-pick sunflowers, make it through a corn maze, pick a pumpkin, and take a hayride, this is the place for you! Sunflowers are in season until late September and pumpkins are available for picking through the last weekend in October.
They have a kiddie corn maze with annual themes such as "Corn Story" featuring characters from the popular movie Toy Story. You can also go through the family corn maze for more of a challenge.
Harvest Tyme is full of games and amusement rides to entertain the kiddos all day. Stop by the petting zoo to feed and pet some familiar farm animals and then take a seat in the giant porch swing or rocking chair for a cute family photo op!
If you get an appetite, no worries, Harvest Tyme has snacks such as artisan pretzels, hot dogs, apple cinnamon donuts, kettle corn, and an assortment of food trucks every weekend.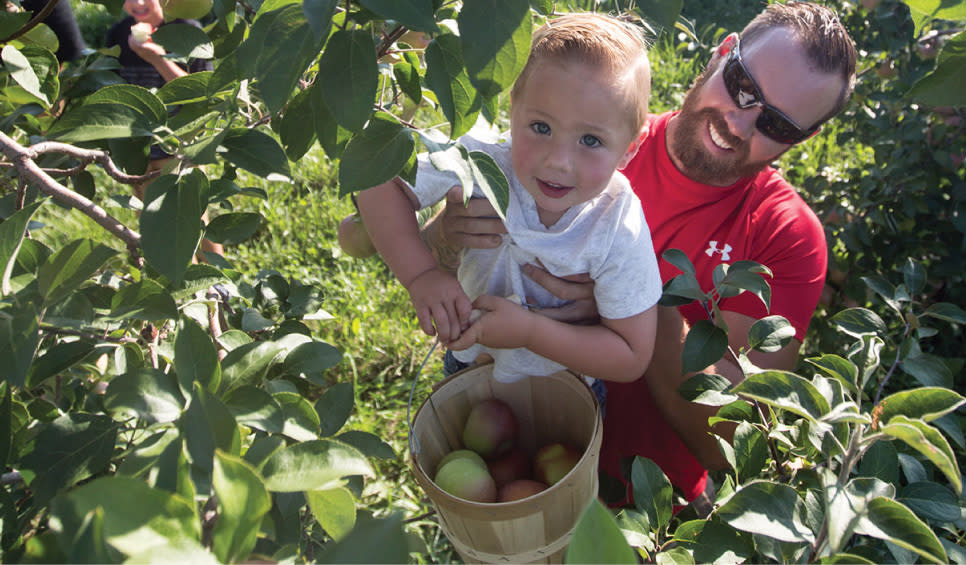 County Line Orchard
A Northwest Indiana classic, County Line Orchard is packed with fun for the whole family. County Line has u-pick fields, educational bee yurts, live music, two corn mazes, children's train, kids farm with animals to feed and pet, campfires, and so much more.
County Line's u-pick options include apples, sunflowers, and pumpkins. Corn mazes are themed every year - from a giant sunflower to a celebration of when the Cubs won the World Series. There's also a smaller soybean maze of an Albanese gummy bear, which is easier for the kiddos
Don't forget to head inside the barn before you go for yummy fall treats like donuts, apple cider, honey, and many other fall necessities!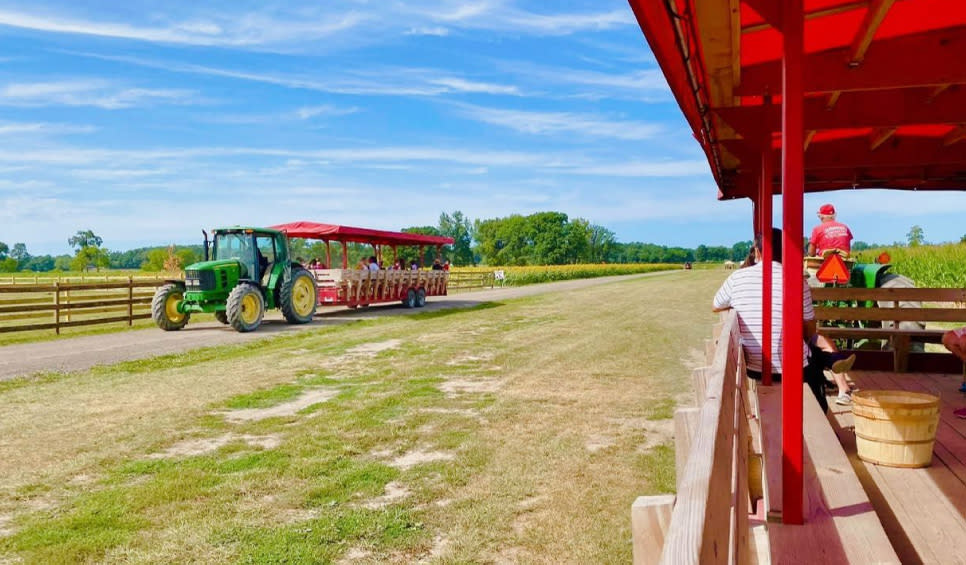 Johnson's Farm Produce
Johnson's Farm features multiple U-Pick fields open every weekend during the season, a garden center full of beautiful flowers, farm market with prepicked produce, "fun farm" for the little ones, and more! Their u-pick fields that are open on weekends for the rest of this season include the following:
Sunflowers
Zinnias
Raspberries
Pumpkins
Vegetables – Eggplant, Sweet Corn, Cabbage, and Cauliflower
---
What's in Season?
Harvest seasons can vary based on the weather each year. Before you go, check the locations's social media or website or just give them a call to see what's ready.
Strawberries – June
Blueberries – around July 1 to early August
Raspberries – early July
Blackberries – July, early September
Apples - late August through October
Pumpkins – late September through October
Christmas Trees – end of November to mid to late December

Plan a Getaway
Thinking about visting the area's orchards and u-picks? Plan an entire weekend getaway around it with more outdoor activities, fun attractions plus local wineries, breweries, restaurants and more!

U-Picks & Orchards - Who Has What?
Below are even more u-picks and orchards to visit throughout the South Shore area. No matter which one you choose, you will not be disappointed. Make sure to share your experience by using #AlongTheSouthShore on social media so we can see your fun family experiences. Have a happy fall!
APPLES, PUMPKINS, FAMILY ACTIVITIES, MARKET
County Line Orchard
200 County Line Road
Hobart, IN 46342
Phone: 219-947-4477
countylineorchard.com
Fair Oaks Farms Orchard
856 N. 600 E.
Fair Oaks, IN 47943
Phone: 219-394-2025
fofarms.com
APPLES, MARKET, FAMILY ACTIVITIES, BLUEBERRIES, STRAWBERRIES, BLACKBERRIES, RASPBERRIES, VEGETABLES
Garwood Orchard
5911 W 50 S
La Porte, IN 46350-9705
Phone: (219) 362-4385
appleupick.com
APPLES
Pavolka Fruit Farms
17776 N Wozniak Rd
Michigan City, IN 46360
Phone: (219) 874-6056
pavolkafruitfarm.com
Radke Orchards
8999 W 200 N
Michigan City, IN 46360
Phone: (219) 872-3140
radkeorchards.com
Williams Orchards
9456 N 500 East
LaPorte, IN 46350
Phone: (219) 778-2839
williamsorchard.com/
PUMPKINS
Spring Run Farm
2110 W. 169th Ave.
Lowell, IN 46356
Phone: (219) 696-9357
facebook.com/SpringRunFarm
PUMPKINS, FAMILY ACTIVITIES, SUNFLOWERS, MARKET, BLUEBERRIES, STRAWBERRIES, VEGETABLES, RASPBERRIES
Johnson's Farm Produce
8960 E. Ridge Rd.
Hobart, IN 46342
Phone: (219) 962-1383
johnsonsfarmproduce.com
PUMPKINS, HONEY, CORN
A Few Shades Greener
9812 N. 100 E.
Lake Village, IN 46349
afewshadesgreener.com
PUMPKINS, HONEY, SUNFLOWERS
West Creek Bees
17006 Tapper St.
Lowell, IN 46356
Phone: (219) 741-5473
facebook.com/VicariFarms
PUMPKINS, SUNFLOWERS, FAMILY ACTIVITIES
Harvest Tyme Farm Park
17904 Grant Street
Lowell, IN 46356
Phone: (219) 440-2386
harvesttymefun.com
PUMPKINS, PLANTS, SWEET CORN, FAMILY ACTIVITIES, MARKET
Coulter's Farm Produce
5433 S US 421
Westville, IN 46391
Phone: (219) 785-2406
coultersproduce.com
PUMPKINS, MARKET, FAMILY ACTIVITIES
Kregel's Pumpkin Patch
7705 W 159th Ave
Lowell, IN 46356
Phone: (219) 690-1503
kregelspumpkinpatch.com
SUNFLOWERS
Happy Harvest Sunflowers
17303 Holtz Rd.
Lowell, IN 46356
facebook.com/happyharvestsunflowers 
BLUEBERRIES
Billy Boy's Blueberry Barn
650 Freyer Road
Michigan City, IN 46360
Phone: (219) 872-7477
billyboysblueberrybarn.com
Blue Sky Berry Farm
15552 S. 1050 West
Wanatah, IN 46390
Phone: (219) 733-2416
blueskyberryfarm.net
Blueberries of Indiana
2388 W 1000 N
Michigan City, IN 46350
Phone: (219) 326-8686
blueberriesofindiana.com
Fritts Berry Farm
10301 IN-10
Demotte, IN 46310
Phone: (219) 987-2228
frittsberryfarm.com
Eenigenburg's Blueberries
6721 W State Road 10
Demotte, IN 46310
Phone: (219) 987-2957
indianablueberries.com
BLUEBERRIES
Casto's Corner
5865 South 600 West
North Judson, IN 46366
Phone: (574) 540-8793
facebook.com/castoscorner
Luedtke Blueberry Farms
725 E 1400 N
Wheatfield, IN 46392
Phone: (219) 956-3356
luedtkeblueberryfarm.com
Stateline Blueberries
9957 N Frontage Rd
Michigan City, IN 46360
Phone: (219) 874-7721
statelineblueberries.com
BLUEBERRIES, HONEY
VanKley's Blueberries
2666 W State Road 10
Wheatfield, IN 46392
Phone: (219) 956-3687
vankleysblueberries.com
BLUEBERRIES, BLACKBERRIES
Grandma's Berry Patch
9895 W 1700 S
La Crosse, IN 46348
Phone: (219) 733-9080
grandmasberrypatch.com
BLUEBERRIES, SWEET CORN, EGGS, HONEY, MARKET
Merrillville Farms
6716 Colorado St.
Hobart, IN 46342
Phone: (219) 947-0223
merrillvillefarms.com
STRAWBERRIES
Rosey's Blueberry Farm
1066 N 1150 West
Michigan City, IN 46360
Phone: (219) 874-2981
strawberry-picking-indiana.com
GuseBerries
7373 West 1700 South
Wanatah, IN 46390
Phone: (219) 733-2662
guseberries.com
CHRISTMAS TREES
Egolf Christmas Trees
14594 S 700 W
Wanatah, IN 46390
Phone: (219) 733-2143
egolfschristmastrees.com
Guse Christmas Trees, LLC
6177 W 1450 S
Wanatah, IN 46390
Phone: (219) 733-9346
gusechristmastrees.com