Indiana Dunes National Park, located along the shore of Lake Michigan in Northwest Indiana, is an unbelievable oasis some would consider a diamond in the rough. With the third largest city in the nation, Chicago, less than an hour away and many other large cities surrounding Miller Woods, you will be shocked by the biodiversity and beauty of this park.
Miller Woods was acquired by the National Park Service in 1976 and has been an attraction for people from all over. It's a fantastic place for hiking, biking, fishing, bird watching, or having a beach day along the shore.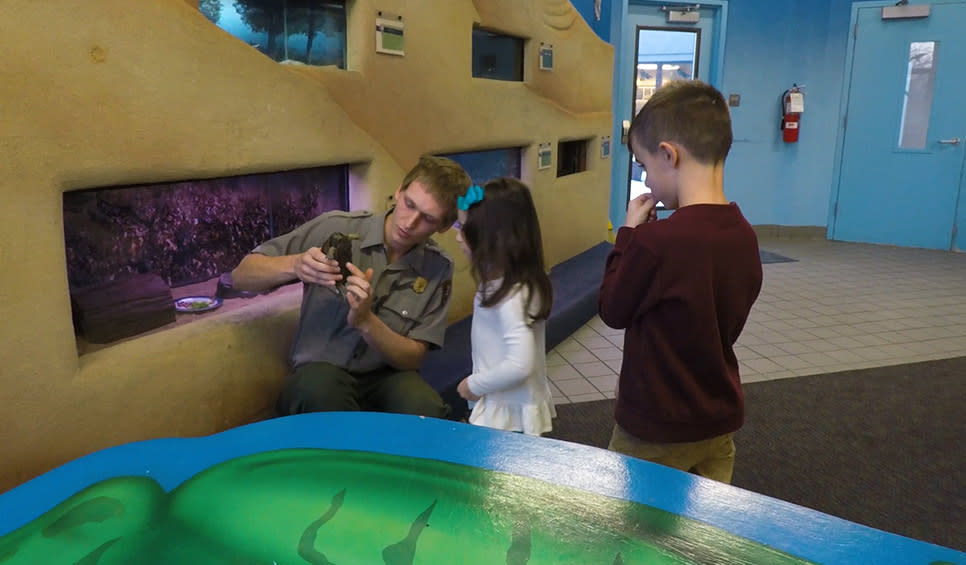 When you first arrive at the trail head, you are welcomed by the park rangers at the Paul H. Douglas Center for Environmental Education and see examples of the plants and animals that make up this unique ecosystem. There are aquariums with native frogs, snapping turtles, snakes, and fish all native to the area that you could see along the trails.
Setting out on your hike you are immediately surrounded by gorgeous wildlife making you to second-guess where you are. You can choose your trail - which all lead to the beach and are extremely easy to navigate.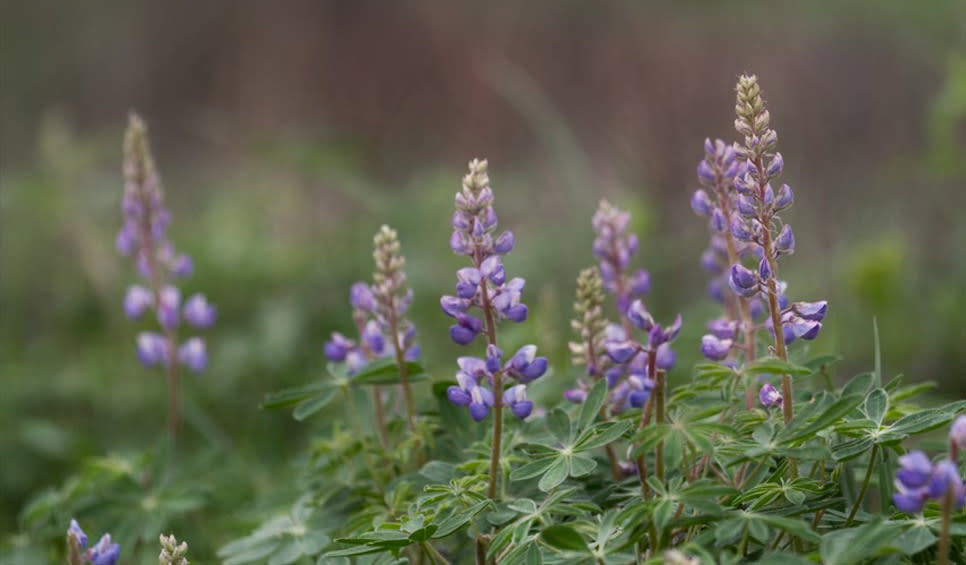 Flowers
On your journey, you will see anything from beavers making their dens to beautiful lupine flowers that engulf the forest floor. Lupine are only around for a few spring months and are only found in very select environments like Miller Woods Trail and Beach. They also have a unique shape and a distinguishable purple pigment that make them easy to spot.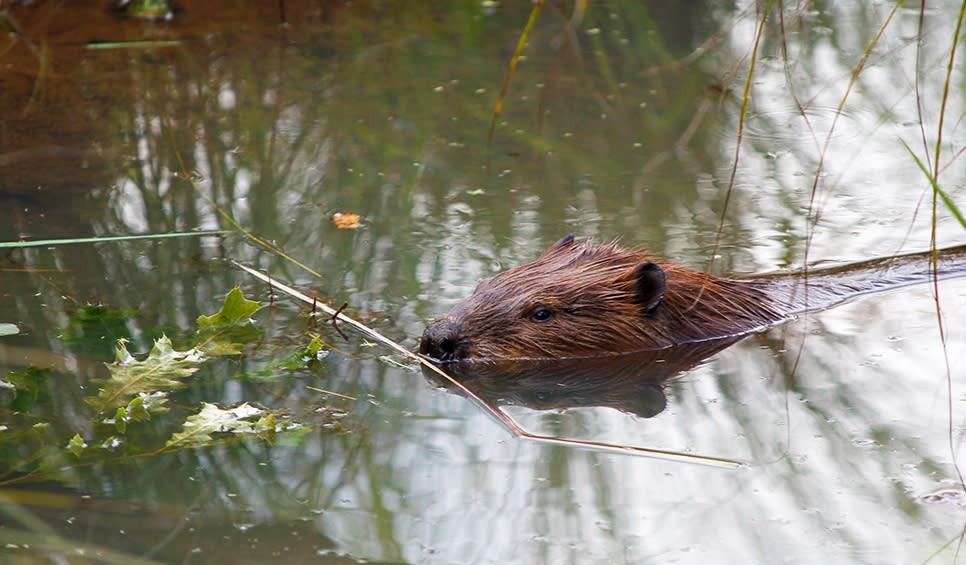 Photo from the National Park Service
Wildlife
Beavers are vastly prevalent in the Miller Beach area and signs of them can be spotted along the trails. There are beaver dens and dams around the creeks and pools that lead in from Lake Michigan. Keep your eyes peeled to see beaver teeth marks on trees. Beavers can eat through trees with their extremely powerful bite and will completely take down a tree in order to get the branches from the tops to build their dens. Seeing the bite marks on the trees is mind-blowing and makes you wonder how such a small animal can take down such a large tree.
Controlled Burns
Something else that may catch your attention when walking along the Miller Woods Trail are areas that have been control burned by the park rangers. These controlled burns help restore the forest floor from invasive species as well as enrich the ground for future growth of new plant species. You can spot these burns by looking for black charred areas at the bottoms of trees and smalls areas of vegetation that are darkened from the fire.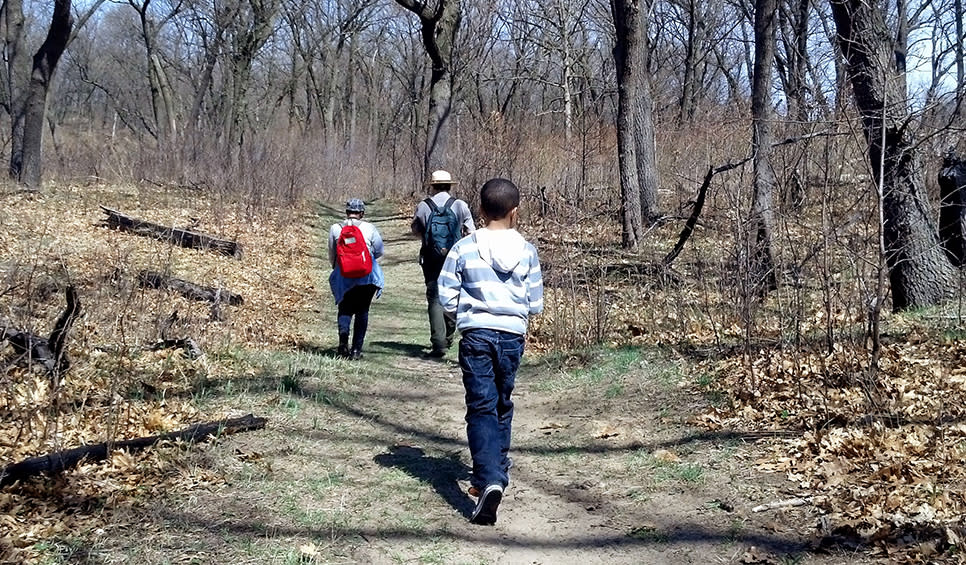 Birding
Some of the most unique birds from around the Midwest can be seen in Miller Woods, so don't forget your binoculars. Family Nature Backpacks with bird watching equipment are offered in the Paul H. Douglas Center free of charge. Many events and tours are offered by the National Park Service throughout the year for avid bird watchers. An exciting new member of the bird community is a handful of bald eagles that have been spotted around the area. This is a very positive sign for the ecosystem because bald eagles have not been seen in the park for many years.
Fishing
Along the trails of Miller Woods you will also find excellent fishing spots as you get closer to the lake. However, in order to fish here you are required to have an Indiana State fishing license. When you have your license you will be able to catch smallmouth bass, carp, catfish, and trout to name a few.
---
Easy access plus free parking and admission makes Miller Woods and the Paul H. Douglas Center an affordable, can't miss stop at the Indiana Dunes National Park!
If you go
Address: 100 N. Lake St, Gary Indiana
Trails and parking are open daily from 6:00am – 11:00pm CDT.
Parking is across the street from the Paul H. Douglas Center.
The Paul H Douglas Center is a handicap accessible building and they have the availability of special off-road wheelchairs for the trails.
With more than 3.5 miles of trails be sure to bring water and a snack to stay hydrated while hiking the beautiful trails of Miller Woods.