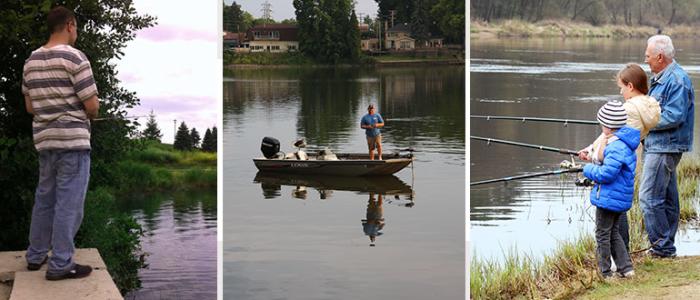 There are a variety of good fishing spots within the Northwest Indiana area, whether you're looking for a quick trip or an all-day fishing excursion, the region has someplace to suit your needs. Many of these locales offer the ability to fish year-round, though this list is specifically for those who are looking to spend some time fishing during the summer months. If you're looking for any particular type of catch, it's best to research each individual spot because the types of fish vary depending on location and time of the season. Now here are ten fantastic places in the region to cast a line in summer!
Best Fishing Spots
With Lake Michigan just touching part of Indiana, it's hard to not mention this mammoth body of water as a great place to fish. Whether you're just on the edge, on a pier, or taking a boat out into the deeper water, Lake Michigan has a ton of area to fish and explore. There are a couple of different spots that allow you to reach Lake Michigan from Indiana, each with their own benefits. No matter which one you choose, Lake Michigan is a great place to catch coho and chinook salmon, steelhead, lake trout, yellow perch and many others.
Located not too far from the Indiana/Illinois border, Wolf Lake offers a big-lake feel in a smaller setting. With a well-developed park and recreation area nearby at the Wolf Lake Pavilion, this is the perfect spot for avid fishermen but also those who are looking to just cast a line with the kids. Wolf Lake has a large variety of fish including pike, herring, walleye and the rare lake sturgeon.

Lake George
Lake George Dam in Hobart offers a good area to fish for everyone from novices to experts. There are some big fish to catch in these waters and the surrounding area is a great place to relax on a sunny day. There are a variety of water levels in the vicinity, allowing you to do some fly fishing as well as spinning and traditional baitcasting. Bluegill, largemouth bass, catfish, carp and bream populate these waters, along with a smattering of other fish. It's hard not to catch something good in this lake. Visitors can park at Festival Park and Lakefront Park in Hobart and walk to the dam. There's also a boat launch at Lakefront Park.
Located in the heart of Munster just across the street from Community Veterans Memorial, Centennial Park offers a small fishing pond that is great for kids to get a catch and release experience. This is not likely an area for your more seasoned fishers, but it's a great place for families to cast their rod and enjoy a beautiful day in the park. You may even be able to catch a largemouth bass or two while you're there.
The Kankakee River offers one of the most expansive areas to fish in Northwest Indiana, with around 90 miles of river basin to cast your line. There are a ton of different access points to this river and you can fish right off some riverbeds and bridges. No matter where you decide to try your luck in the Kankakee, you'll have the opportunity to catch smallmouth bass, walleye and even some northern pike. Many big fish come out of this river, including a record-setting 20-pound northern pike. This is a great place for experienced fishermen who are looking for a challenge and a chance to get that trophy catch.
Salt Creek
One of the more unique places on this list is Salt Creek, located just south of Valparaiso. It serves as a tributary to the Little Calumet River. Salt Creek has a scenic backdrop and just the right atmosphere for some fantastic early morning or late afternoon fishing. This is a great place to catch some steelhead, salmon, skamania and small stream trout. It's a lengthy creek, so there are plenty of access points, but they all tend to be a little hike off the side of the road. Salt Creek is just off of US 30 in Valparaiso, not far from Zao Island or catch it around State Road 2. You can also access Salt Creek from Imagination Glen Park at 2275 McCool Rd. in Portage.
Little Calumet River
There was a time through the 40s and 50s that the Little Calumet was not really adequate for fishing. Thankfully a lot of restoration has happened since then and now this is a fantastic spot for catching fish. There are some good size largemouth bass there, as well as smallmouth bass, trout, salmon and dogfish. This is a unique area that allows for canoe/kayaking fishing opportunities as well. The Heron Rookery in the Indiana Dunes National Park is a good spot to access the river.
This beautiful and serene lake is a great place for all sorts of recreation, including angling. If you're looking for a scenic place to fish the shores, Cedar Lake is ideal. It can get a bit busy during the summer months when lots of people come out for the Cedar Lake Summerfest and other recreational activities, but it's generally big enough to accommodate. This lake offers a ton of catch, including crappies, several types of bass, bluegill, perch and wiper. Yes, that's wiper, not striper. This hybrid fish is a cross between white and striped bass, and Cedar Lake is one of the few areas around where you can reel in one of these bad boys.
Willow Slough (J.C. Murphey Lake) is a shallow fishing spot located down in Morocco, Indiana. This is a nice spot to catch some bluegill, crappie, bass, catfish and northern pike. The shallower water gives you a bit of a different experience from some of the larger lakes in the area. There are lots of good panfish to catch, while you check out all the nearby wildlife at the reserve. There are also a variety of these types of ditches, creeks and small streams in DeMotte and surrounding areas near the farmland. Just make sure you have permission before heading out to catch any fish in those areas.
Burns Ditch
Located by the Port of Indiana, Burns Ditch connects the Little Calumet River and Lake Michigan. As a result, this spot has become a hotbed for great fishing opportunities. Burns Ditch offers a great place to catch a big catfish, along with some sizable largemouth bass, walleye, and coho salmon. You can launch a boat from the Portage Marina and try your luck at catching a big one. There are no guarantees in fishing, but you're almost certain to come away with at least a couple coho at Burns Ditch, especially if you're dropping your line around the mouth of the ditch.
No matter what type of fishing you're looking to do, and no matter your skill level, Northwest Indiana has a plethora of options available to you. From small streams and creeks, to big lakes and rivers, there are few better places in the country that offer such a diverse fishing experience. Check out these spots and create your own "fish story" right here along the South Shore.
Contributing Editor: Jake Giles
Former Video Production Associate with the South Shore CVA.