My husband and I moved to Northwest Indiana two years ago but COVID and home remodeling delayed hosting guests… until now! WOOT! Our Wisconsin friends came to visit, and we were excited to show them a sampling of what our new hometown area has to offer!
While Mother Nature put the kibosh to our beach plans, we forged ahead with a little shopping. Our first stop was Hammond Salvage and Resale, a family-owned resale store in business for over 12 years. They have neat treasures in every little nook and cranny and we didn't leave empty-handed! Our next stop was Crown Point's Antiques on Main with over 70+ vendors in their 8,000 sq ft showroom. We found even more treasures as many of the vendors had discounted their goods as the store is closing April 30. (Check their social media to learn more about their relocation.) Our friends snatched up this mint vintage bar cart and mirror at a great deal. Boy, were we glad we brought our truck!
Shopping worked up our appetite, so we walked over to Tavern on Main Craft Bar & Eatery.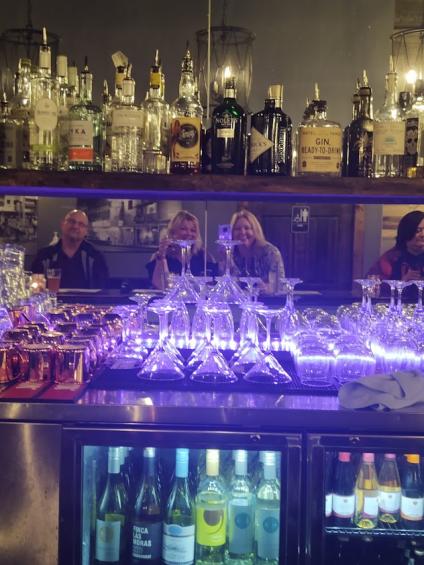 Tavern on Main is a modern, upscale gastropub located across from the historic Crown Point Courthouse with a great food menu, craft brews and specialty cocktails. 3 Floyds Brewing Co. closed their Munster taproom a year ago due to COVID so I'm always on the lookout for their beers in local places and Tavern on Main did not disappoint. The Yum Yum Pale Ale was a great pairing with the delicious Tavern Margherita flatbread. My husband enjoyed the Peppercorn Burger and our friends would recommend the Monte Cristo and Cubano. It should also be noted that the eatery is for 21 and over.
Just steps away, we introduced our friends to one of the 20+ breweries along the South Shore Brewery Trail. Crown Brewing, named after a large regional brewery that closed in 1916, offers something for everyone's beer tasting palate. My favorite is Special Forces IPA - a citrusy floral hoppy beer - while our friends preferred the dark maltiness of Industrial Porter. Be sure to check out the unique chandelier crafted of beer bottles should you visit Crown Brewing.
Our tour continued at Wildrose Brewing in Griffith. Opened in 2015 after "four region dudes and a chick" brewed beer for fun in their garages, they "promise to continue focusing on making the best beer possible and we will welcome you into our new garage like old friends." They meet this promise with each visit, offering my regional favorite, Double Train Delay. This double IPA is named after the many trains that travel through the region. If you are lucky, you will be stopped by two trains on your one visit!  Our friends continued their pursuit of the dark and malty brews in a flight served by welcoming staff.
We watched the sudden downpour as the overhead door was open to the covered 1,000 sq ft patio. Our "rain delay" led us to another round of Wildrose's barrel brew house ales (oh darn, LOL!). 
As our friends enjoy a good cocktail, our last stop of the tour was 18th Street Distillery in Hammond (located next to 18th Street Brewery - also on the brewery trail). 18th Street Distillery is the first artisan distillery to open since prohibition in Northwest Indiana and does not disappoint! Their hip cocktail lounge is a fun place to enjoy their spirits in specialty cocktails with fresh herbs and fruits crafted by talented bartenders.
We can't wait for their return visit. Cheers to our next adventure on the South Shore Brewery Trail! Grab a friend or two and go visit the trail!