I recently had the opportunity to join the Decay Devils on a preservation ride through downtown Gary, Indiana. This group's mission is to help restore unoccupied historic buildings and landmarks, saving these gems from demolition. Our extremely knowledgeable tour guide and founder of Decay Devils, Tyrell Anderson, shared the back stories on many of the old buildings we pedaled past.
My ride went like this: we met in a downtown parking lot, across from an old building that has been refurbished to now house a college and apartments. We then pedaled past the Steel Yard home of the Gary SouthShore RailCats.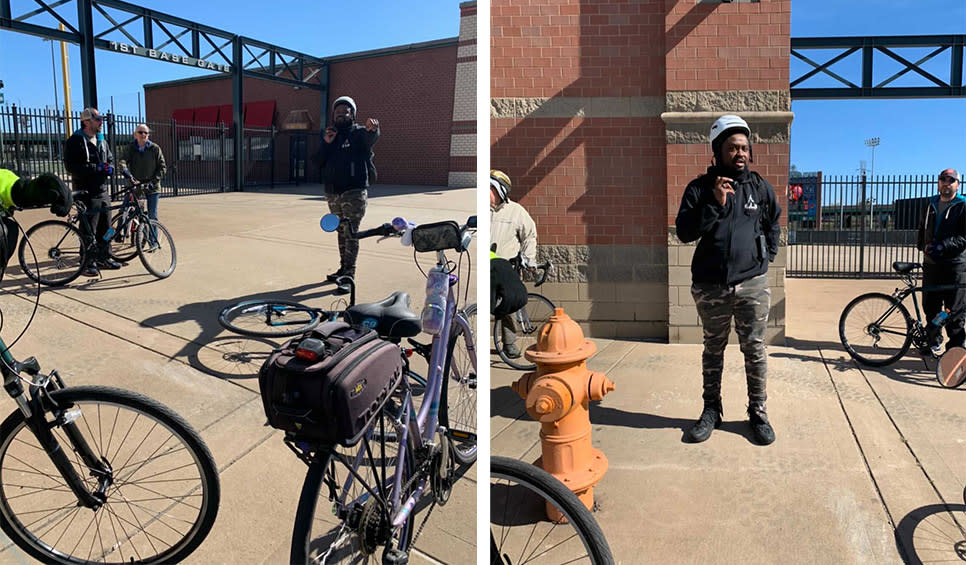 Next up was the sprawling Emerson School. When it opened in 1909, it contained an auditorium, pool, bank, zoo, seven laboratories, several art studios and industrial art spaces. The brick shell of the building still looks amazing.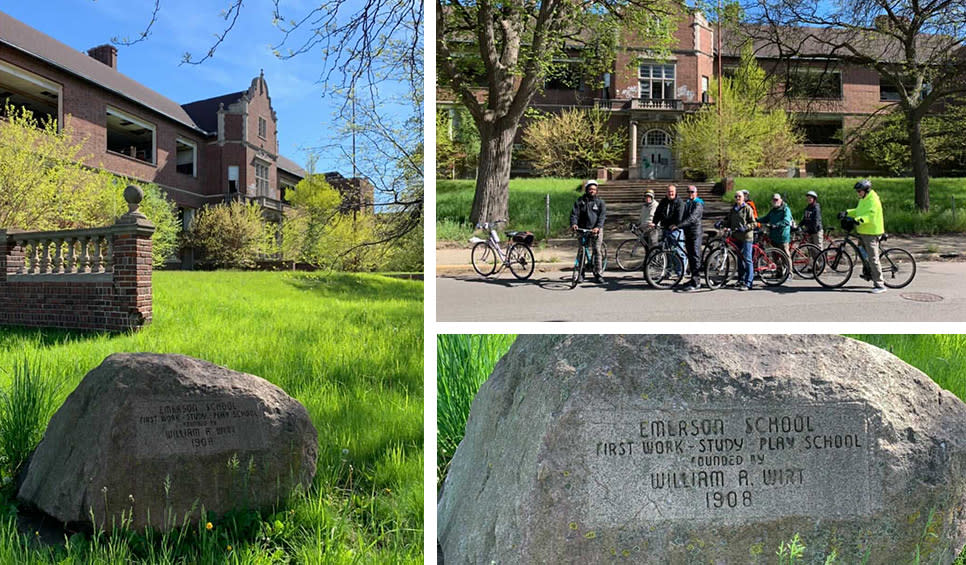 Across the street from the now abandoned Emerson school the building (which is still owned by the school city of Gary) is an urban farm complete with chickens, roosters who let us know their presence, and goats, Farm fresh eggs were available for purchase.
We then pedaled past the old post office; a beautiful old building constructed in 1936 with funds from Roosevelt's New Deal. It's one of the few art deco buildings left in Gary and has a black granite base with stucco walls.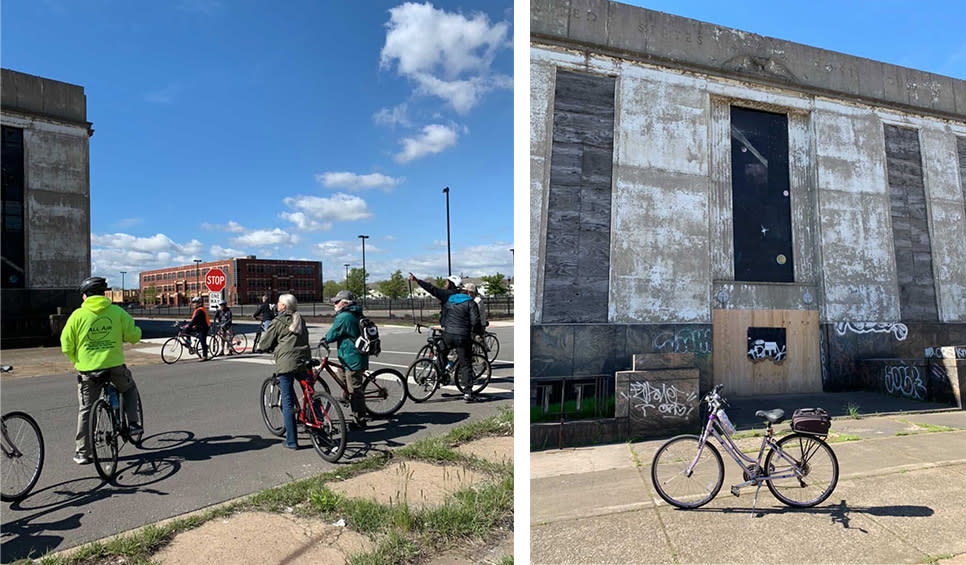 Next up was the infamous Methodist Church. This dilapidated building has been the backdrop for several movies and many music videos through the years. Constructed in 1925, this was one of the first million-dollar churches in the US.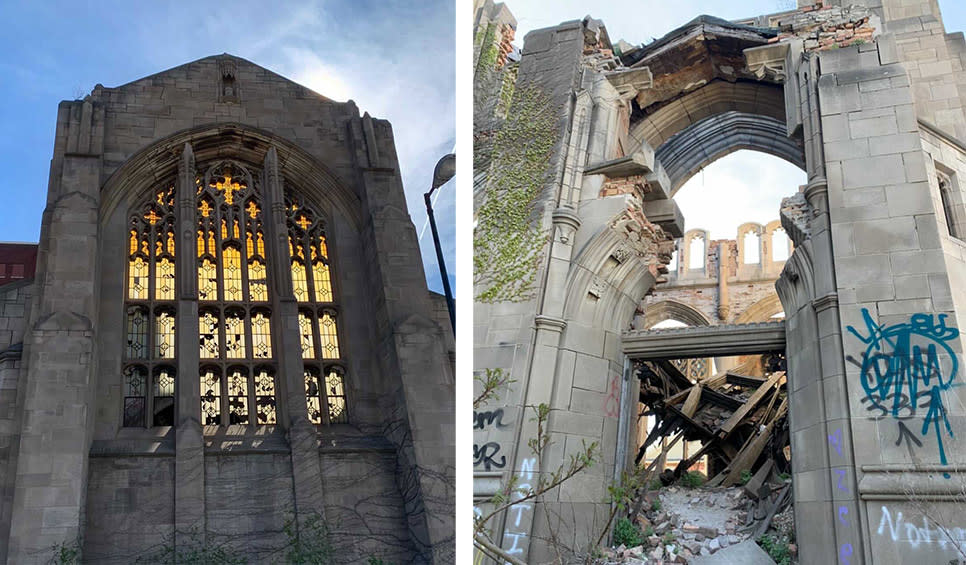 In 1952 church membership reached over 3,000 attendees. By 1973 membership fell to only 320 members.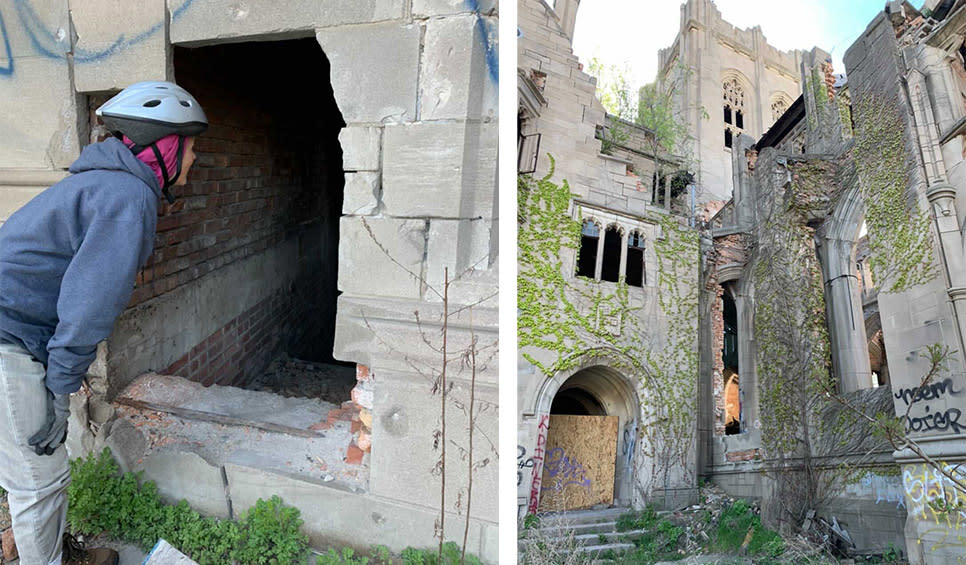 After that, we pedaled back to the site of an old water tower built in 1909 which was torn down in 2020. This unique octagonal landmark was one of the first structures in the city's skyline and was the centerpiece for Gary's first public park, Jefferson park. The cost to repair the old structure was comparable to building a new one. The decision was made by the private company to tear down the old one and build a new structure. The base from the old structure still stands across from the street from the new water tower.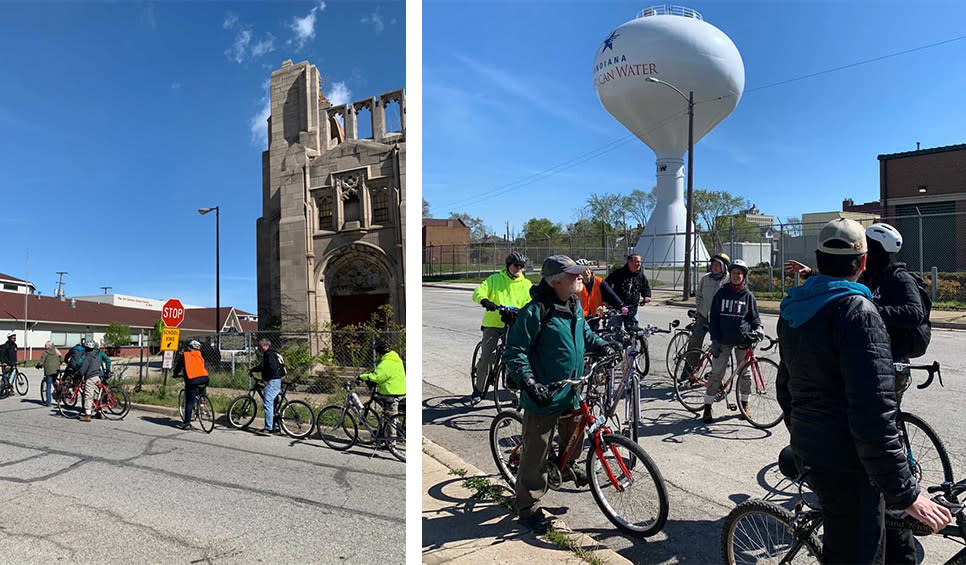 Next, we pedaled through a lovely neighborhood of well-kept homes and got to see the final remaining Frank Lloyd Wright home still standing in Gary.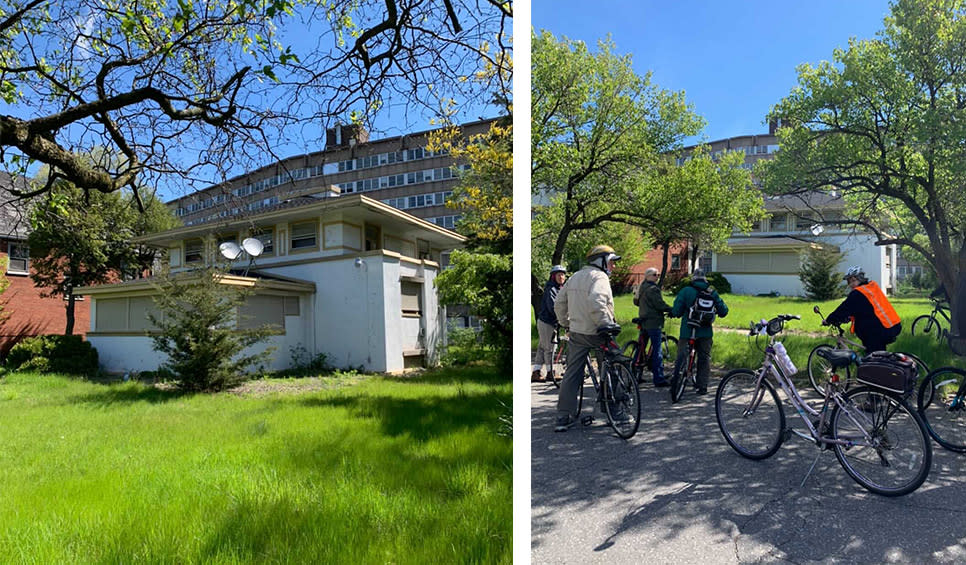 Next up -- Holy Angel's Cathedral. This gothic revival cathedral was completed in 1950. In the early days, masses were held in a tavern on the corner of 5th and Broadway.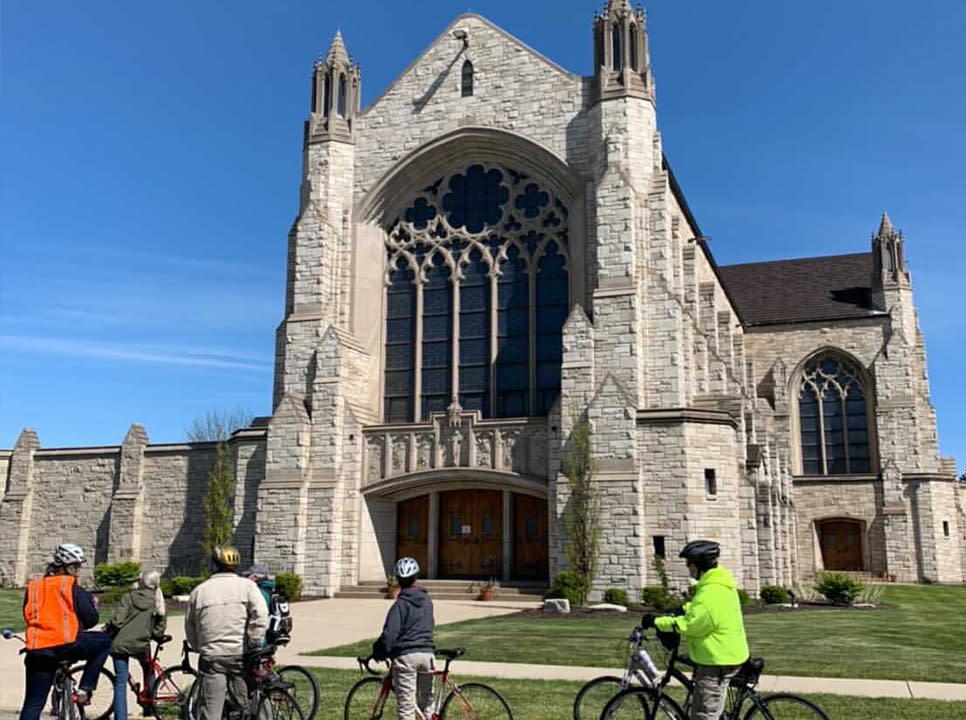 After that, we pedaled to the Edison concept homes built in 1913 by US Steel. They were named after Thomas Edison who came up with the mold system for concrete house construction. Of the 86 homes built, more than 50 still stand today!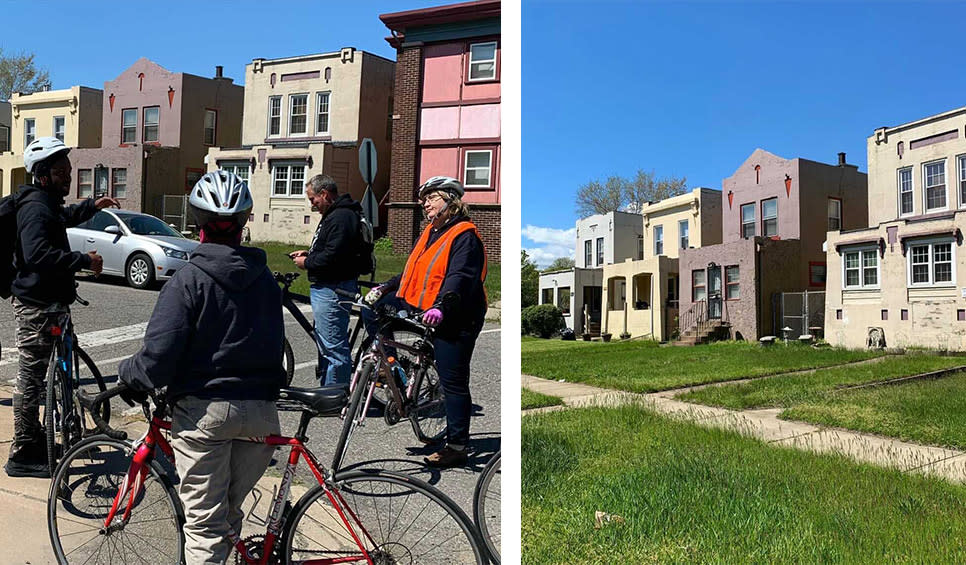 For our final hurrah of the tour, we pedaled up an empty parking garage for a fantastic view of the city including the Methodist Church and Genesis Center.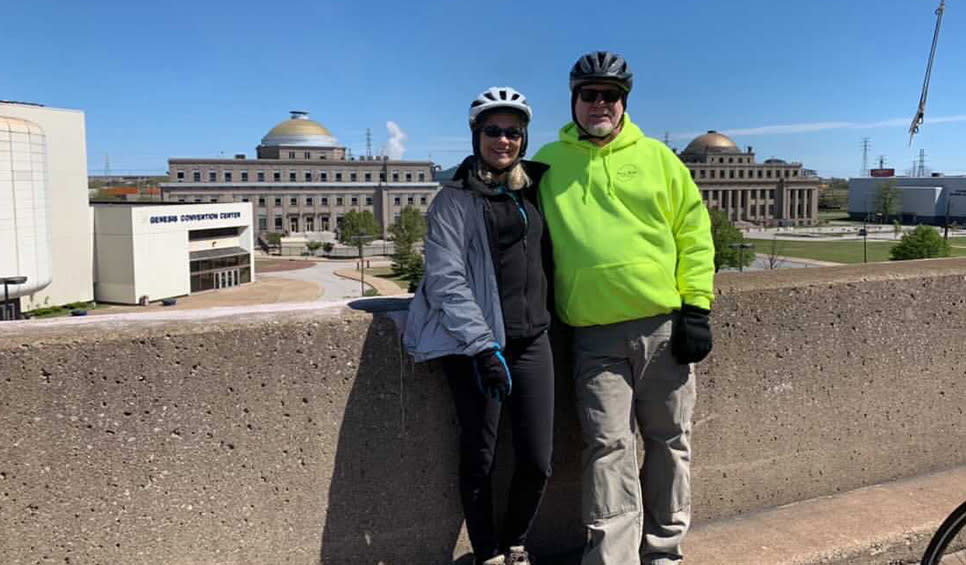 Each time there's a downtown preservation ride, Anderson makes stops at different locations because there are so many options in a city like Gary, with rich history. Anderson provided a wealth of information as we pedaled through the city. One memorable stop along the tour was where we could see a microcosm of the city: new townhome construction, an urban farm, and an empty school in a beautiful park on a dune.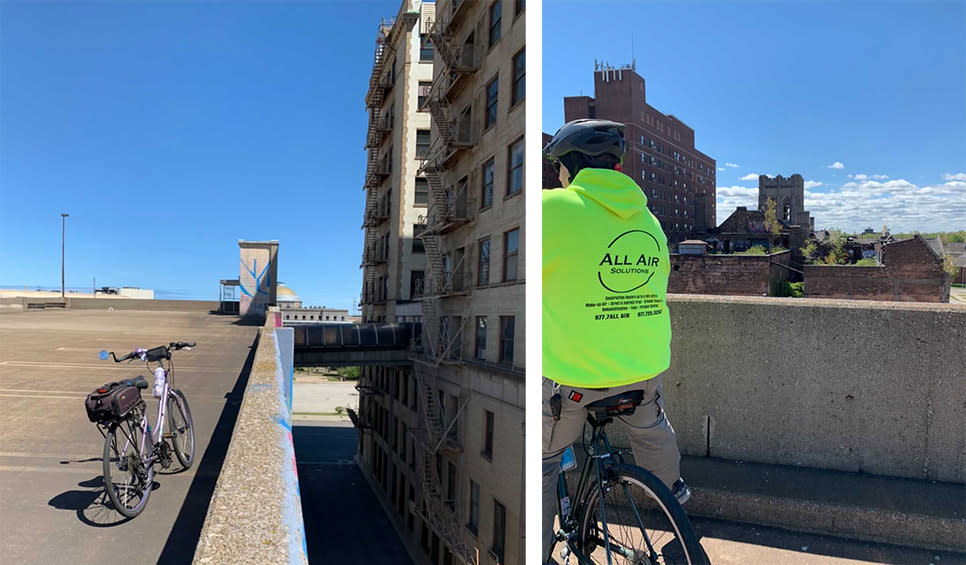 Decay Devils usually conduct four rides a year between spring and fall. Visit decaydevils.org to save the date for the next Preservation Tour and bring your bike and camera to explore some amazing landmarks and murals in the city! If you're interested in helping to support this mission to help save and restore local historical buildings, please visit their website to learn more.