Calling all moms, grandmas, stepmoms and even dads who stand in as a mom. Mother's Day is all about you. Treat yourself to one or a few of the following Mother's Day activities along the South Shore.

Free Admission at Taltree Arboretum and Gardens, Valparaiso
You don't need a vase of flowers when you can walk through the wildflowers at Taltree. Moms get in free on May 14 from 8:00 a.m. to 7:00 p.m. They are also offering 15-minute carriage rides for $3 provided by the Carriage and Sleigh Association of Northwest Indiana! The carriages will be there from 12:00 p.m. to 3:00 p.m.


Mother's Day Brunch, Schererville
Eat your heart out at the Patrician Banquets in Schererville. Your family will also enjoy the carved meats, plenty of breakfast options pastas and a variety of cakes and pastries. Call 219.864.4000 for reservations.


Free Admission to Friendship Botanic Gardens, Michigan City
Stroll through this gem for a relaxing Mother's Day at Friendship Botanic Gardens. Admission is normally $6/person but moms get in free on May 14.

Mother's Day at Aftermath Cidery, Valparaiso
Celebrate mom at Aftermath with two glasses of cider, a cheese board and four chocolate covered strawberries on May 14 from 1:00 p.m. to 6:00 p.m. Reservations required by calling 219.299.VINE.


Cabaret, Munster
Take in a show at the Theatre at the Center. You'll be transported to the Kit Kat Klub in the 1930s when you watch Cabaret. Performances run Thursdays through Sundays until June 4. Tickets are available online at theatreatthecenter.com.


Byway's Mother's Day Brunch, Hammond
Byway will offer a special Mother's Day Brunch menu on May 14 from 10:00 a.m. to 4:00 p.m. Don't forget to enjoy an award-winning beer during your visit.


Sage Brunch Buffet, Valparaiso
Enjoy Chef Joe's special brunch buffet at Sage on May 14 from 11:00 a.m. to 4:00 p.m. Seating is limited and reservations are required. Call 219.464.7243 to hold your place. This special buffet is $28/person (kids 5-11 are half-off.)


Bulldog Mother's Day Brunch, Whiting
Bring the family to Bulldog Brewing Co. to enjoy eggs, French toast, ham and prime rib with a Bloody Mary or Mimosa. Make a reservation by calling 219.655.5284.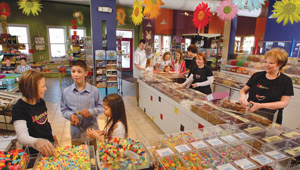 Albanese Confectionery, Merrillville
Don't forget to pick up something sweet at Albanese Confectionery in Merrillville!