Beaches
Please note: The Indiana Dunes National Park and many local municipalities require masks to be worn when you cannot stay six feet away from others.
The following beaches are open as of 7/29/20:
West Beach - Indiana Dunes National Park
Portage Lakefront - Indiana Dunes National Park
Porter Beach - Indiana Dunes National Park
Dunbar Beach  - Indiana Dunes National Park
Kemil Beach - Indiana Dunes National Park
Mt. Baldy (the dune is closed to climbing) - Indiana Dunes National Park
Indiana Dunes State Park
Hammond Lakefront Beach
There are miles of beautiful Lake Michigan beaches in Northwest Indiana including some of the best beaches in the Midwest for swimming, sunning, boating, hiking and relaxing.
The Indiana Dunes National Park and Indiana Dunes State Park offer 15 miles of sandy beaches. Whether you want to frolic in the waves, sculpt a sandcastle, admire the wildlife or simply soak up the sun, the beaches of the Indiana Dunes are sure to please.
Click on each beach on the map to find out more about all the beaches along the South Shore or read more below.
Safety note - Do not swim in Lake Michigan when Rip Current warnings are posted or in large crashing waves, which can cause rip currents. These strong currents rushing out into Lake Michigan can carry even the strongest swimmer with them. If you get caught in a rip current, do not try to swim against it. Instead, swim parallel to the shoreline until you are out of the current. Check for beach hazard warnings before you go.
Last Minute Updates
For beach and park updates at the National Park, visit here or follow them on facebook. For an updated list of what is open and closed at the Indiana State Parks, click here.
You can also call 219-395-1003 to get recorded information on available parking at Indiana Dunes National Park beaches and the nearby Indiana Dunes State Park.
Indiana Dunes Beaches
Explore the Indiana Dunes' beaches any time of year! In the summer, the sand is warm, the breeze is cool and Lake Michigan is sparkling and inviting. During the winter, the stark beauty of the lake and the shelf ice that forms on it will take your breath away. Spring breathes new life into the shoreline and the dunes, and in the fall, the stunning array of colors will astound you.
Notice from the National Park

In order to keep the beaches, trails, and restrooms safely open, visitors need to practice responsible recreation. To do that, the park has developed tips based on the guidelines outlined by the CDC and state public health officials.
Wear a mask when you cannot stay six feet from other visitors. Face masks are expected at the beach, as crowds make it difficult to maintain this six-foot distance. 
While on the beach, taking a few minutes to walk east or west of the beach access point allows you to have a more secluded beach experience.
Consider the best time to visit: weekdays, early mornings and late afternoons are least crowded.
When in doubt, take a hike or picnic instead.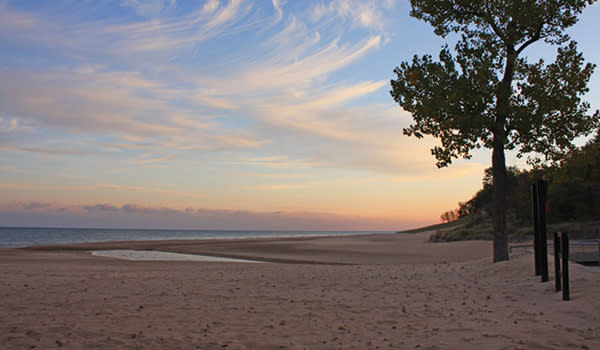 Indiana Dunes State Park Beaches
The Indiana Dunes State Park provides three miles of enticing beaches.
Open from 7:00 a.m. to 11:00 p.m.
The park offers a swimming beach manned by lifeguards in the summer.
A pavilion on the beach provides shelter, bathhouses, and a concession stand.
The rest of the beach area is available for wildlife watching, beachcombing or kite flying.
A variety of hiking trails are available, several of which traverse Mount Tom and offer a spectacular view of Lake Michigan.
A nominal fee is charged to enter the park, which offers plenty of parking.

Photo credit: Indiana Dunes National Park
Indiana Dunes National Park Beaches
The Indiana Dunes National Park maintains an array of magnificent beaches, which are open year-round from 6:00 a.m. to 11:00 p.m. unless otherwise noted. Parking and bathroom facilities are located near all of the beaches. At the National Park, lifeguards are only available at West Beach.
West Beach - This popular beach was named one of the 10 Best Beaches for Families by Parents Magazine in 2011. Covered picnic shelters and grills make this southernmost tip of Lake Michigan a great spot for a picnic. Fishing is available at nearby Long Lake and the 2.5 miles of easy to moderate trails entice hikers. From Memorial Day through Labor Day, lifeguards are on duty and a small fee is charged for parking.
Dunbar Beach - This beach, as well as Lake View, is located near the historic Century of Progress homes, which were built for the 1933 World's Fair to showcase modern architectural design and new technology. This beautiful beach has limited parking.


 
Kemil Beach - Traveling to Kemil Beach in Porter takes you on one of the most scenic drives in Porter County. Quiet and secluded, this little gem of a beach offers access to Dune Ridge Trail. 
Porter Beach - Sharing its eastern border with the Indiana Dunes State Park, Porter Beach is a favorite with the locals. It's a great place to enjoy some water sports or simply sit and relax. 
 

 
Mount Baldy - The beach is open at Mount Baldy, however, the dune at Mount Baldy remains closed for public safety and dune protection. The trail to the beach is about 1/2 mile long and somewhat strenuous. This is a very popular beach area and the parking lot fills up quickly. 
Portage Lakefront and Riverwalk - This 57-acre site is jointly managed by the National Park Service and the City of Portage. The site has a narrow beach and features an enclosed pavilion with seasonal food service, restrooms, a handicapped-accessible trail, and a fishing pier. It's also a great place to launch a kayak. 
---
More Beaches On Lake Michigan's South Shore
Hammond Lakefront Park has lifeguards during the summer as well as the bird sanctuary trail to hike along.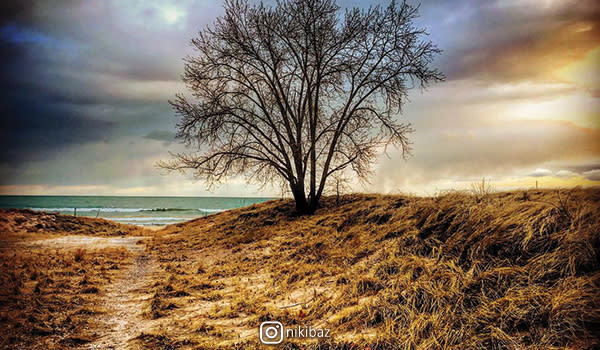 The following beaches are closed until further notice as of 7/29/20:
Marquette Park
Wells Street Beach
Lake Street
Whihala Beach
Jeorse Park (due to erosion)
Lake View (due to erosion)
Central Ave. (due to erosion)
Washington Park
---
Plan Your Trip to the Dunes